Princeton's Grady Thompson and St. Bede's Paul Hart were both selected to this year's Colmone Classic All-Tournament Team. But it's not the first time they've teamed up together.
They were teammates at Princeton Christian Academy in their junior high school days along with PHS junior Christian Rosario. One can only imagine how good those PCA teams were with that dynamic team teaming up.
They led the Eagles to a combined 49-1 two-year record, going undefeated (25-0) in Hart's eighth-grade season and losing just once (24-1) his seventh-grade year to Deer Park on a half-court, 3-pointer at the buzzer, Hart's dad, Bob, a PCA coach, recalls.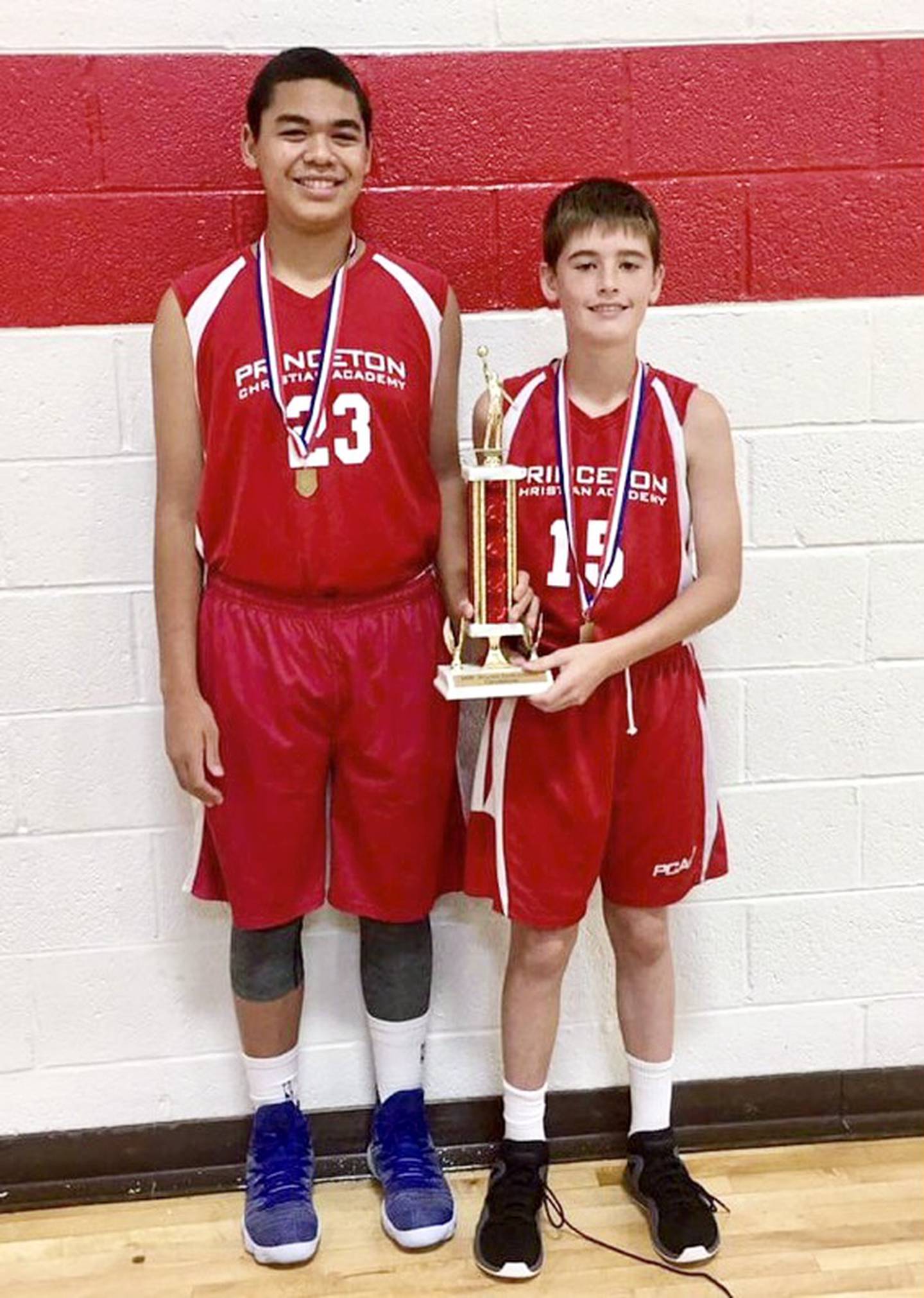 The Eagles won the Malden Tournament back-to-back years as well as the conference championship their last year together.
The PCA pair also won the conference free throw contest two years straight.
"I made a lot of good memories playing with Paul at PCA, and I hope to make many more playing against him," Thompson said. "The games Princeton plays at St. Bede are definitely ones I look forward to."
Hart said it was good for them to have each other to work on their games together.
"Me and Grady worked extremely hard whether it was after practice spending extra time or going to the Metro Center after school. Even though we stopped playing together as teammates we continued to keep in touch and play pickup to this day," Hart said.
"It's great playing against Grady, even though I'd much rather have him on my side. We have a good time competing and just having fun playing the game that we love.
"I knew Grady was going to be a star, because his work ethic is unbelievable. I'm excited to see what he does in the future. I see Grady as a little brother and we're both blessed by God to be where we're at."
Hart, who was named the Colmone Classic MVP in 2019, the last time it was held, was this year's scoring leader with 102 points, averaging 25 ppg as the Bruins went 3-1, placing ninth. He will soon break the Academy's All-Time scoring record held by big-leaguer J.A. Happ.
Thompson grabbed this year's MVP award at the Colmone Classic, leading the Tigers to the title with 80 points (20.0 ppg), the second most in the tournament.
The PCA products posed for a '"jersey swap" following games at the Colmone Classic. Thompson reaffirms though, that each got their own jersey back. After all, they still have games to play.
Princeton Bible Church Associate Pastor Justin Bullington had the "joy" of helping coach the duo at PCA and said they were special athletes.
"Paul and Grady worked their butts off. They put hours in the gym ... hundreds of shots up," he said. "It's such a pleasure to watch their growth."
Bullington admits he didn't have a lot of coaching to do with them during games.
"I remember them coming into timeouts and having literally nothing to say about their play ... 'You just do whatever you're doing,'" he said with a laugh.
What brings Bullington, who baptized Thompson earlier this year, the greatest joy is that "they are committed followers of Christ."
Kevin Hieronymus is the BCR Sports Editor. Contact him at khieronymus@bcrnews.com