It sounded a little fishy, but Seth Pickett doesn't think it's a fish story.
Pickett, 28, of La Salle, and Mike Harden, 42, of LaMoille, went out to catch some chubs and minnows in a Bureau County creek Sunday to go catfishing.
What they caught on their first pull still has them scratching their heads – a blue crawfish, which is native to Florida.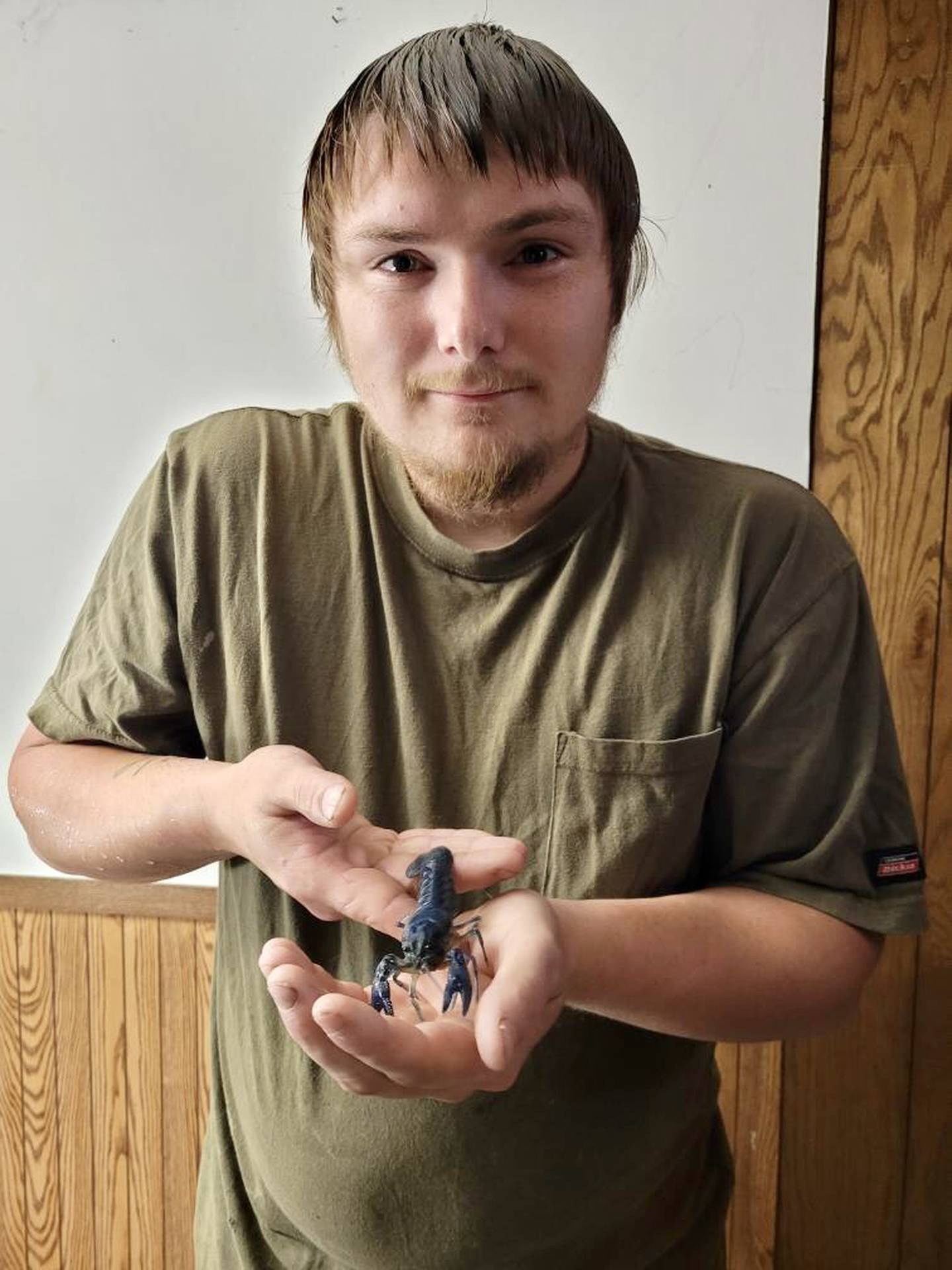 "We kind of looked at it and looked at each other, and we were like, 'Oh, cool,' and threw it in the bucket. We thought maybe we were going to get some more. Maybe it was just like molting or something," Pickett said.
"We ended up getting two dozen more, and all of them were brown."
Pickett, who works as a "mate" for a small family tow boat company on the Illinois River out of Chillicothe, had never see the likes of a blue crawfish before and did some research.
"I looked it up, and was, 'Whoa, OK,'" he said of the rare find.
Here's where it gets a little fishy.
"One of the fishing sites I'm on, they said someone just let it go. It was a pet. You can get them at the pet store," Pickett said.
Pickett doesn't buy that fish story.
"I don't think it was a pet, just because where we caught it at. There were other places they could have put it in at," Pickett said. "They said the chances of catching it are like 1-in-2 million, if it's an actual wild one.
"What led me believe it's a wild one is we caught maybe two other dozen crawfish out of this particular place, and they were all the same size. And I know there's other species after looking into it, but they're smaller.
"I think it is the 1-in-2 million. I want to think it is, at least."
Like a good fisherman, Pickett doesn't want to divulge where he caught it.
"I'll say it was a farm creek near Arlington," he said with a laugh.
The blue crawfish, which Pickett has named "Big Blue," has found a new home in his aquarium. His tank mates are a 9-inch perch, minnows, a creek chub and a large shiner.
Pickett said he's thinking about keeping it but is afraid the perch may try to make it a meal. He may reach out to the Department of Natural Resources to find out some more information on his prized catch.