PRINCETON – In 1954-55, the Princeton Tigers won their first 23 games of the season on the way to a second straight state tournament appearance.
Sixty eight years later, Princeton's boys in blue hope to take that same path.
The Class 2A No. 1-ranked Tigers defeated rival Kewanee 66-44 Tuesday to match the 23-0 start of their brethren before them. They outscored the Boilermakers 36-21 in the second half to win going away.
"Playing at home and sharing the ball, that's what got us going," sophomore forward Noah LaPorte said.
The significance of matching the 23-0 start by the 1954-55 state team, which finished 32-3 and placed fourth in the one-class system, was not lost on Tigers coach Jason Smith.
"It means a lot for us just to tie it and have a chance to go in the history books with such a great team," he said.
The Tigers improved to 6-0 atop the Three Rivers East at the halfway mark of the conference race.
Princeton raced out to leads of 15-4 early in the first quarter and 27-17 late in the second, but as has come to be expected in this longtime rivalry dating back decades to the days in the NCIC, Kewanee did not go down without a fight.
The Boilermakers fought back within four points, going for a last shot of the half. A pivotal five-second inbounds violation on the Boilers turned the ball back over to the Tigers, who scored the last three points of the half on a basket and free throw by LaPorte to go up 30-23.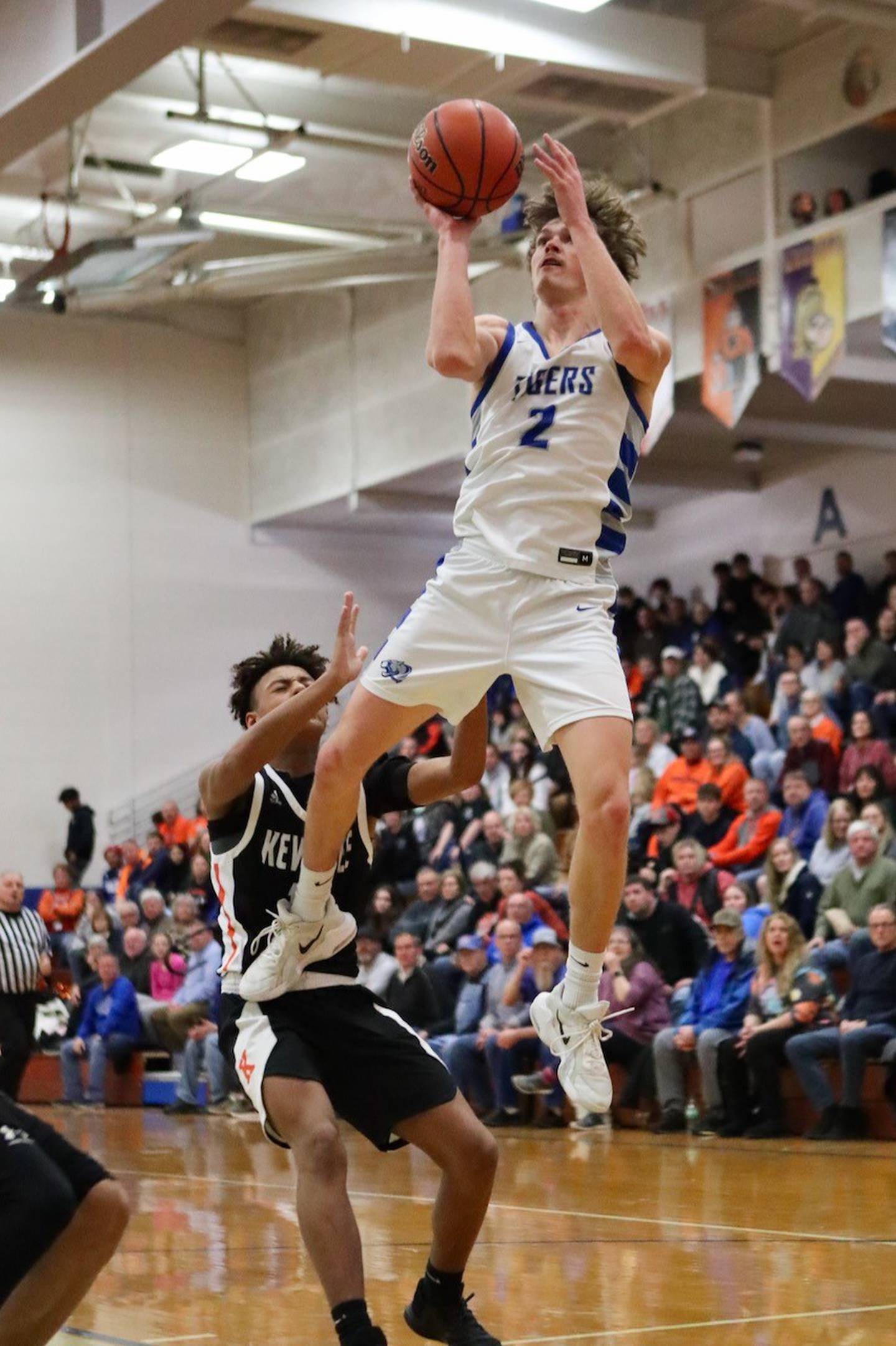 Kewanee (9-10, 3-5) never threatened again as the Tigers ran off nine straight points and outscored their guests 23-5 in the third quarter to take a commanding 53-28 lead.
"Coach [Matt] Clark has his kids playing hard. He does a nice job with them. They were undersized and undermanned, and they know that, but they competed really well," Smith said. "We worked on some different things tonight. Kind of took us out our element. But I thought we did those things well. And so we know what to adjust in practice. Hats off to Kewanee for playing hard first half."
LaPorte and teammate Teegan Davis were not surprised to see Kewanee come to play in the first half.
"Anytime we play Kewanee in any sport, they're always going to bring their game. We know that," LaPorte said. "We got to get going, and once we do, we're good."
"They came out and battled tonight," Davis said. "We always have a good third quarter, extend the lead and have fun out there and battle hard."
Smith attributed the Tigers' defense, as it usually is, as their spark Tuesday in the second half.
"When our defensive intensity picks up like that, we're a tough team to stop," he said. "We held them to [five] points in the third quarter. We're so long and athletic in the [1-3-1]. We get our hands on tipped balls. We trap hard when they pick up their dribble, and we just scramble after that. And then they get out and go and they're fun to watch, that's for sure."
Grady Thompson, who finished with 23 points, and LaPorte (19) scored 11 points each in the second half and Davis (15), who had to sit out with early foul trouble, added 10 points in the second half to spark the Tigers' offense.
Brady Clark led his dad's Boilermakers with 24 points, scoring 13 in the first half to keep them close.
Notes: Iowa Hawkeyes football coach Kirk Ferentz was in the house Tuesday to watch his recruit, Davis. He stayed for several minutes after the game, greeting fans of all ages and taking pictures with any and all requests. ... With 15 points, Davis will need 11 on Friday night against Hall to become the 12th 1,000-point scorer in school history. ... Kewanee won the sophomore prelim 54-40. Jordan Reinhardt had 19 points, and Luke Smith had 12 for the Kittens. Kashen Ellerbrock led the Riveters with 16, and Colson Welgat had 13.