PRINCETON – When the Princeton girls basketball team needed it most, it turned to its strength Monday night at Prouty Gym.
The Tigresses scored four straight run-out baskets when the game was getting close in the fourth quarter and made 5 of 6 free throws down the stretch to hold off Kewanee 52-35 in Three Rivers East play.
For the game, the Tigresses scored nine of their 21 baskets on fast-break shots off either steals or run-outs, and that's the way they like it.
"I tell the girls we can run anybody out of the gym, and if we don't have to set up an offense that would be the game plan all night," second-year Princeton coach Darcy Kepner said." They buy into that and want to score as many points as possible. They run hard all the time."
Freshman Keighley Davis opened the fourth quarter with a basket on the break, and senior Isa Ibarra followed with a run-out on a pass from Olivia Gartin to give the Tigresses a 41-28 lead.
Kewanee closed within 41-33 with 4:25 left to play on a drive by Hannah Tiska and a 3-pointer by Neponset's Emma Crofton.
Two more run-outs by Gartin and Davis pushed the Tigresses' lead back to double digits at 35-24, and they were never threatened again. Mariah Hobson made 3 of 4 free throws, and Davis sank a pair to put the game away.
"This group has always turned that 31 [1-3-1 zone] into offense when they can, and that's what we always come back to turning defense into offense, and it comes up big," Kepner said.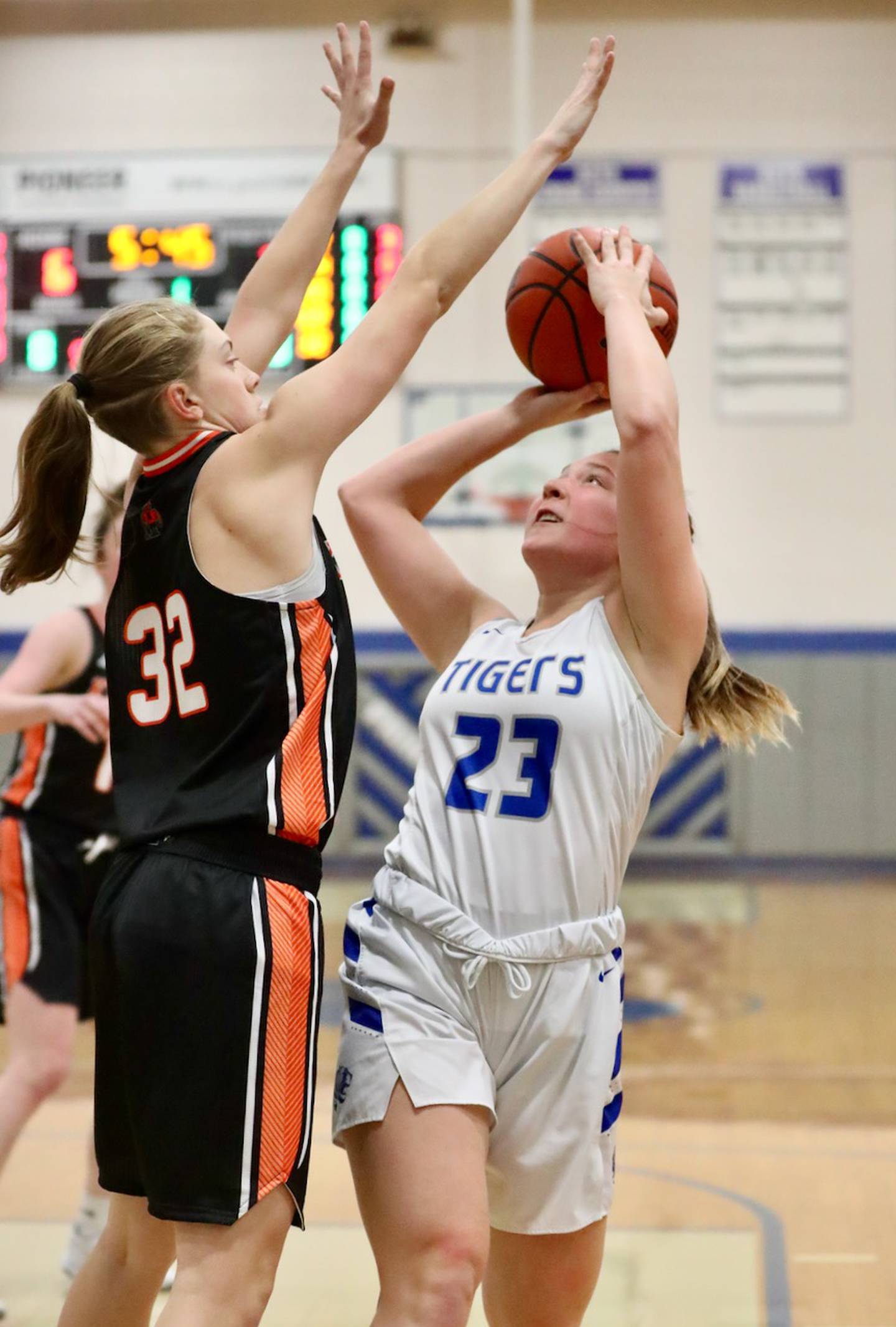 The Princeton coach said the freshman Davis has been a great addition on top of that 1-3-1 defense along with senior Erin May.
"She plays a great top for us and is committed to scoring off that," she said.
Davis led the Tigresses with 16 points, while Gartin added 13 for the Class 2A No. 3-ranked Tigresses, who improved to 7-0.
Crofton led Kewanee (2-6) with 16 points. Avery Yepsen had nine.
Princeton used an 11-2 run to close out the second quarter. Davis scored on the break off a pass by Gartin to give the Tigresses a 19-10 lead with 3:54 to go before half.
Gartin made a deep 2-pointer from the left wing before moving over to the right to drop a 3-pointer to make it 24-12. Two layups by Davis closed out the first half scoring for a 28-12 Princeton lead.
The Boilers used a 10-2 run to turn an 18-point deficit to 10 when Crofton hit a 3-pointer to make it 35-25 with 30 seconds left in the third quarter.
May executed a pick-and-roll for a hoop to close out the third quarter for a 37-25 Princeton lead.
"We know every conference game is going to be tough, and we're going to get everybody's best game," Kepner said. "In the third quarter, they changed some things up and went man against us and gave us a little bit of trouble. But we figured it out and got through it and got the win at the end."
Notes: Princeton now has won 18 straight regular-season games dating back to the 2021 spring COVID season. Princeton won the sophomore prelim 41-33. The Tigresses return to action Thursday at Mendota.