It was raining 3s early Friday at Prouty Gym.
Teegan Davis hit two straight 3-pointers and his partner in crime, Grady Thompson, hit another to lift Princeton to a quick 11-point lead over IVC and it proved to be a storm the visiting Grey Ghosts could never recover from.
The Tigers finished off a 17-point run to take a 19-point lead and rolled to a 59-34 nonconference win in their home opener.
"It was good to get out to a big lead pretty early," Thompson said. "Teegan started off really hot, which helped us a lot at the beginning. He was hitting shots and so was I. It's nice having him to feed off of."
The Princeton cagers, who were ranked No. 3 in Class 2A in the first Associated Press Poll of the season, improved to 6-0 heading into Saturday's opener of the Colmone Classic at Hall High school.
Davis connected for a 3-pointer at the 6:38 mark of the first quarter to put the Tigers up 7-2.
He followed with another and Thompson liked it so much, he swished a third straight Tiger trey and Princeton went up 13-2.
Thompson (25) and Davis (18) combined for 43 points.
"Those are our two leaders and that's what's expected of them. We expect them to hit those shots," Tiger coach Jason Smith said. "Teegan had been struggling from the outside, but I knew it was just a matter of time before he got his basketball legs under him and he'd hit his shots and he showed some explosiveness we hadn't seen out of him yet.
"For those guys to get us going early on was huge."
The run and fun continued with a drive by sophomore Noah LaPorte and two free throws by Thompson before Davis finished what he started with two hoops, punctuated with a breakaway dunk to make it 21-2.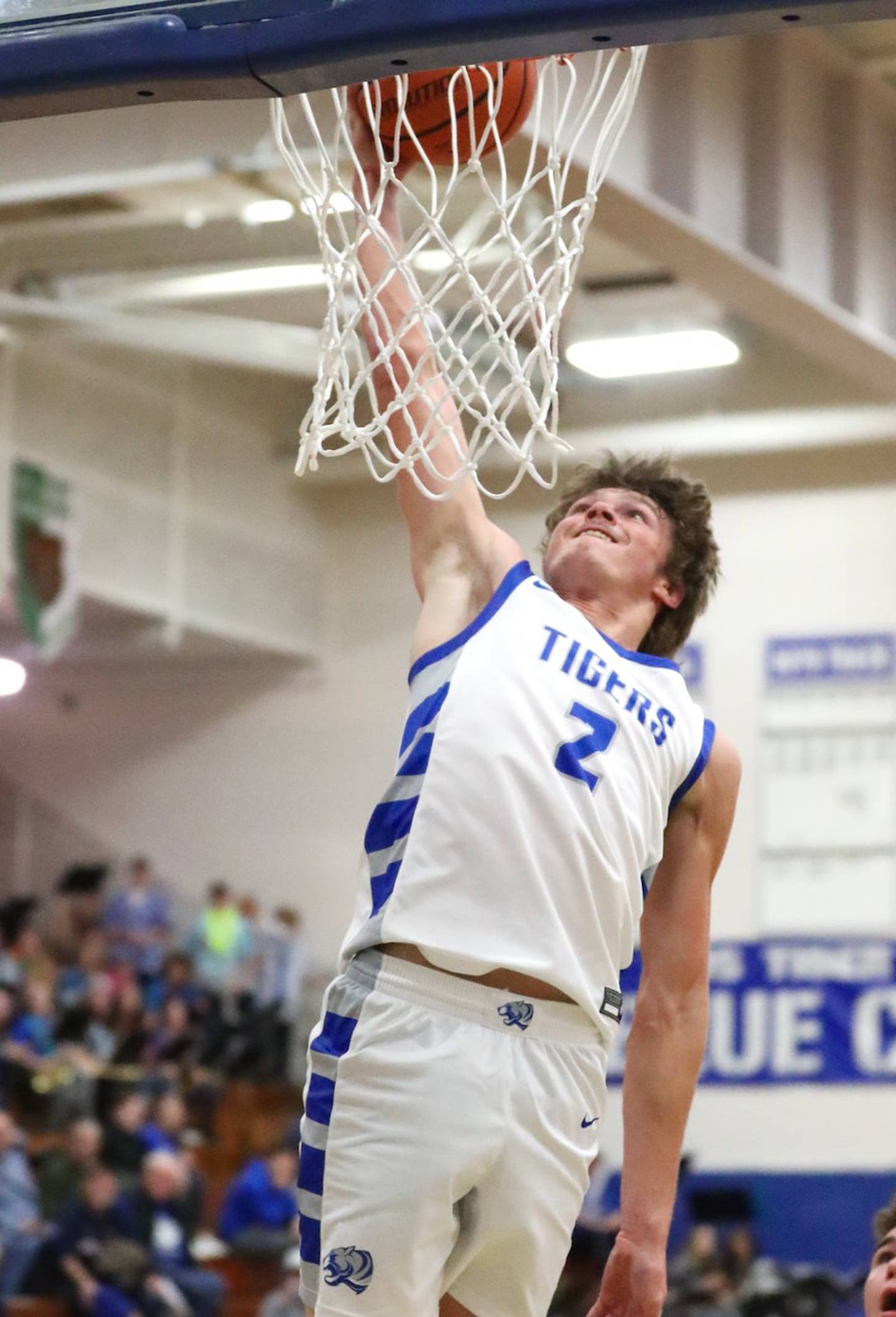 IVC's Cole Yates hit a 3-pointer with a minute left in the first quarter. That sparked two more IVC 3-pointers by Stephen Braun and Michael Holloway to cut into the Tigers lead at 23-11.
Princeton was hardly fazed with another Thompson trey leading to a 13-0 Princeton run.
Davis scored in the post, Christian Rosario went coast to coast for a layup and after LaPorte hooped twice, Rosario scored again on a putback to send the Tigers to a 36-11 lead.
Thompson hit two more 3-pointers in the third quarter and junior James Starkey got in on the fun with 1:33 showing to send the TIgers to a 52-23 lead at quarter's end.
Another 3-pointer by Thompson to open the fourth quarter put the running clock in play the rest of the game.
Smith said it was just another typical Thompson night.
"Grady's just a quiet scorer. That makes him so special," he said. "I'm sure if you'd ask him, if it wasn't for his teammates getting him the ball in certain situations he wouldn't be able to score like that."
Braun led IVC (1-4) with 10 points.
Smith said the Tigers fed off the home crowd's support.
"It was a great crowd tonight. We appreciate everybody coming out watching and supporting these guys. It brings us energy," he said. "I thought the effort was there and our defensive intensity was there. I don't remember how many points they had in the first quarter (5), but it wasn't much.
"We did a nice job switching defenses and the kids did a nice job reacting to that. We haven't worked on that much in practice so for them to execute that was a great job on their part. We had communication and were just getting after it defensively."
The Tigers head to the Colmone Classic as the defending champions and the team to beat. They face St. Bede at 6 p.m. Saturday in their opener.
"I love going to that place. We like playing in that gym. It's super fun. The crowd gets into it," Smith said. "We had a lot of success there last year winning the Colmone and the regional championship. We like the feeling of that gym. We're excited to be going."
Notes: The Princeton sophomores cruised to a 60-32 win. The Kittens were led by Jordan Reinhardt with 21 points and Asa Gartin with 13.