The senior class of 2022 was highly touted around Princeton High School when it came to volleyball. And rightfully so.
Some seniors played for four years on the varsity and most played for three. They won the school's first regional championship in 11 years as seniors.
Among that senior class last year was a rising star in junior Olivia Gartin. She found her niche alongside the seniors last year, playing an instrumental role on the ride to the regional crown
This year it was her time to carry the load.
Gartin led all area hitters with 278 kills on the season, more than 70 than the next closest player, averaging 3.9 per set. She was one of three players unanimously named first team all conference in the Three Rivers East.
For all her accomplishments, Gartin is the 2022 BCR Volleyball Player of the Year.
Princeton coach Andy Puck said Gartin proved to be everything he could have ever asked for and more.
"Coming into this year there were many expectations on Olivia as she was the only returning starter," Puck said. "She worked incredibly hard over the summer and during the season to develop into the player she ultimately became. A true competitor, she practiced as hard as she played and was not satisfied simply going through the motions.
"As the season progressed, knowing teams would focus in on her, we pushed her to want the ball more. She wore the captain label well. She was the type of player that led by example and pushed teammates to do the same.
"If I could make the ideal athlete with talent, drive, passion and coachability — I'd take a team of Olivia Gartins any day."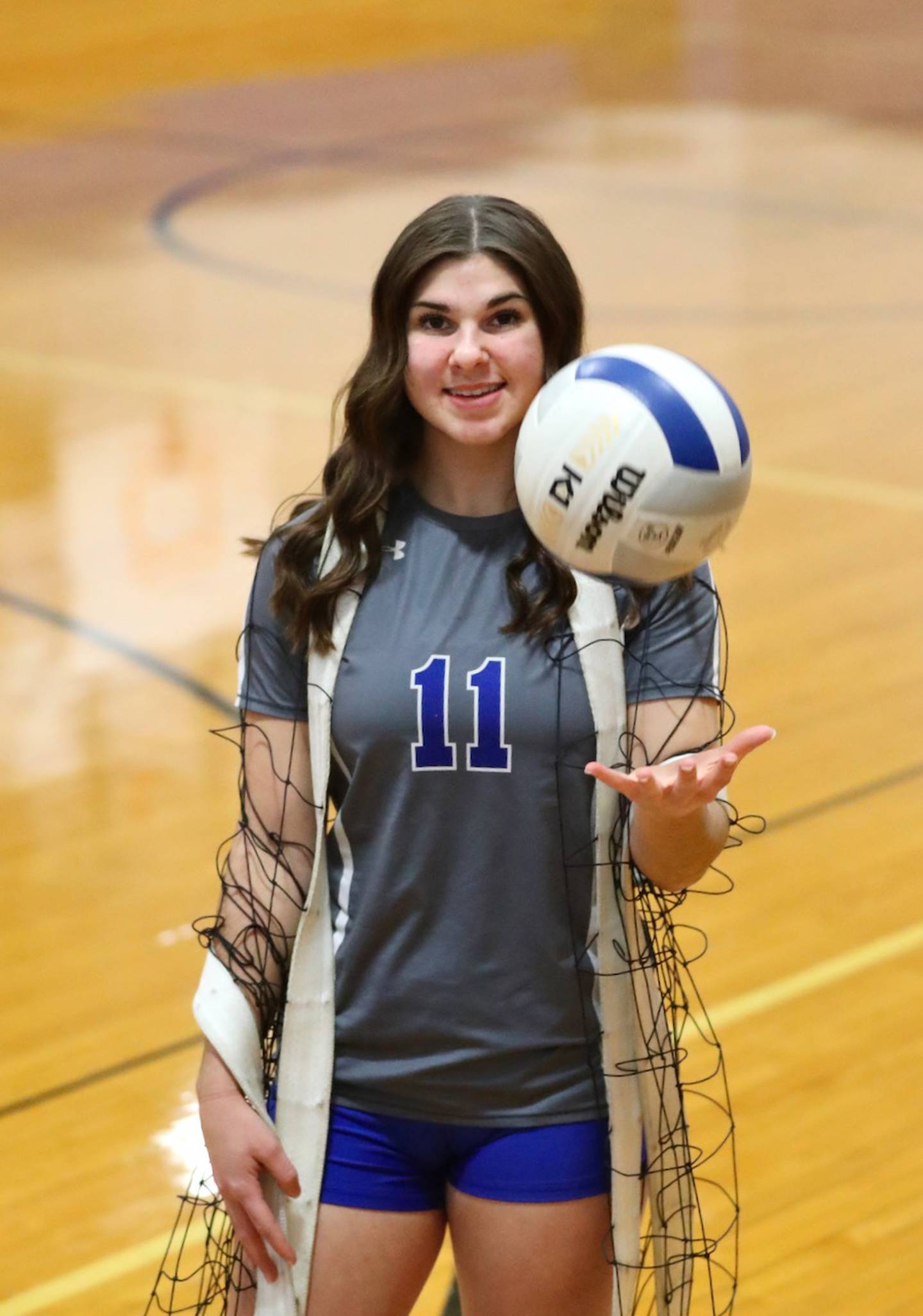 Gartin enjoyed stepping a bit out of the shadows of last year's seniors into casting her own light.
"It was a fun experience for me as a player and as a team," she said. "It was a different transition from last year to this year's team. It was a learning experience for me and I'm glad I got to be a part of that."
"I just played to the best of my ability and just played hard and did what I knew what to do."
While this year's team had a tough act to follow, Gartin said it was more than just trying to carry on the tradition that last year's team left.
"The team we had this year was not the same team as last year," she said. "So, it was learning how to work with each other and each other's skills rather than trying to force last year's experience onto this year."
The Tigresses finished 12-19, the only sub-.500 record in Puck's 21-year tenure at Princeton, which was a disappointment.
"We definitely didn't play to our full potential. There was more in us, we just couldn't find it," Gartin said.
Gartin smiled when told it seemed she brought a little more oomph on her swing this year, pounding balls harder than ever, attributing it to a "passion of volleyball and determination to win so doing what I can to win."
Much like hitting a 3-pointer in basketball, she lived for the moment of getting a big kill.
"It's a lot of fun. I'm not even going to lie. I was a ball hog and I wanted every ball," she said. "But, I knew I couldn't do it by myself and I wasn't upset if I didn't get every single ball to hit because we had a lot of other players step up in the front row."
In two short years, Gartin has left her mark at PHS. She recorded the sixth most kills (278) in a season and leaves eighth all-time in PHS history in career kills with 500.
She thanks everyone for "supporting me through the four years of playing volleyball. It means a lot to feel supported. It helps me a lot through this journey."
Gartin plans to pay basketball, her first love, at Sauk Valley College. If the opportunity presented itself, she would be open to playing volleyball with her sister, Maya, who was a freshmen this year.
The Olivia Gartin file:
* BCR Player of the Year
* Unanimous TRAC East All-Conference
* Area-best 278 kills (6th most single season at PHS)
* 8th all-time kills (500) at PHS