PRINCETON – Layton Britt wasn't supposed to play in Thursday's regional semifinals. Good thing for Bureau Valley he did.
The BV senior belted two home runs in his first two at-bats, and senior ace Sam Rouse took care of the rest, pitching the No. 5-seeded Storm into Saturday's championship game of the Class 2A Princeton Regional with a 5-4 win over No. 3 Riverdale.
Britt was a game-time decision with an ankle injury, but he said there really wasn't a decision to be made – he was going to play.
"I wasn't expected to play but I got taped up. Yeah. I came out here and I stuck through it. No matter if it was broken, I probably still would have played," he said with a smile.
"We didn't know our big power hitter was going to play today. That was a game-time decision," BV coach Ryan Schisler said. "He's as tough as kid as I've ever met. To put him in that situation, he just stepped up."
The game marked the third straight outcome of the regional that saw the underdog win. No. 8 Erie-Prophetstown beat No 6 Princeton, 11-8, on Monday and regional favorite Hall, 7-5, on Wednesday.
The Panthers and Storm will meet for the championship at 1 p.m. Saturday at Prather Field. It's the first regional finals appearance for BV since John King's walk-off homer over Princeton in 2009.
"Get to go to regional championship. Don't know the last time we did that," Rouse said.
Riverdale (15-5) walloped the Storm, 20-4, early in the season, but the difference this time for the Storm was having Rouse on the mound. He hit five of the first 11 batters he faced, including two in the first inning that led to two runs, to pitch a complete game victory, notching a school single-season record with his eighth victory.
"Playing playoff baseball, anything can happen, right?" Schisler said. "We caught them early in the year. We knew how good they were. We felt like we've got better since we faced them. We had our guy on the mound. Any time Sammy takes the mound for us, we feel pretty good about it
"You hear our fans yelling 'Bulldog' and our guys yelling 'Bulldog.' That's what he does. He just throws strikes, and competes his butt off."
The Rams scored two runs on a dropped pop-up with two outs in the fourth inning to pull within 5-4. Rouse shrugged it off as well as a comebacker off the leg, retiring the next 10 batters to end the game. He struck out eight, allowing only three hits.
Storm senior shortstop Brock Foster belted an RBI triple with a deep drive to center with two outs in the first.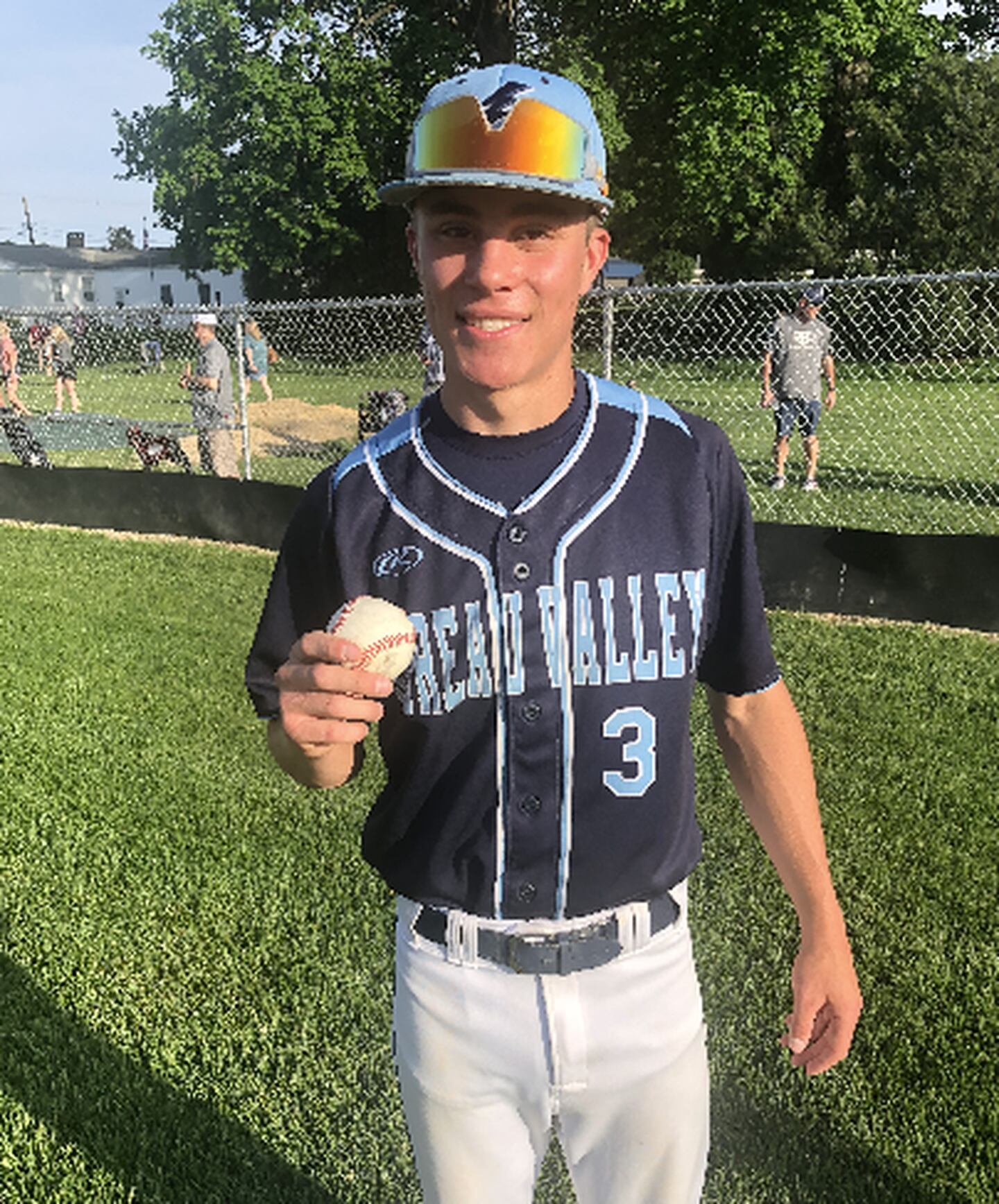 From there, Britt stole the show.
He hit a solo shot to straightaway center to lead off the second inning to tie the game at 2.
He was just warming up.
Britt followed a walk and stolen base by Logan Johnson and an RBI single by Ethan Freeman with another blast to left for a two-run round-tripper to give the Storm a 5-2 lead.
"The first one, I walked up there. I think it was a 3-1 count. It was right down the middle, so I thought why not swing, and I took it yard. The second one, I did it again," said Britt, who had one homer on the season coming into the game.
"The first one felt good. I said it's definitely over. The second one I didn't quite know. ... Two in one game, definitely a shocker."
The Storm ride the right arm of Sam Rouse and the big bat of Layton Britt to Saturday's regional finals with a 5-4 win over Riverdale. All 3 games in the regional have been won by the "underdog." #bcrsports pic.twitter.com/ssLYkAAeUi

— Kevin H Sports Editor (@bcrsportsed) May 19, 2022
No one was happier with Britt's homers than Rouse.
"I wasn't doing the greatest starting off, and he kept giving me gifts. Really appreciate it," he said. "He's always been a good hitter. He hits for power, and just does it."
The Rams pushed two runs across in the first with just one hit, an RBI single by DH Ryan Showalter after Kye Smeltzly plated the first run on a fielder's choice.
Rouse wiggled his way out of a bases-loaded jam he created by hitting three batters when he got Dawson Peterson on a fly out.
"I have a lot of confidence in myself, and I really wanted to do it," Rouse said.
Britt said he would sleep well Thursday night, "knowing we beat Riverdale. They're a good program. We came out here and did it.
"Saturday, we've got to play well like we did today, maybe even better. Get the sticks going again," Britt said.
Bureau Valley beat E-P, 14-10, at home on April 29. Schisler knows it will be another good battle.
"Coach [Brad] Tichler was my fresh-soph coach my freshman year at Morrison, so I've known him for about 20 years. We'll be familiar with each other," Schisler said. "I know they're a good, athletic team. They do some really nice things, so it will be an exciting battle."