PRINCETON – The Princeton Tigresses found themselves in an unfamiliar situation Monday night at Prouty Gym: down by double digits in the first half.
Trailing by as much as 13 points early in the second quarter and by five (23-17) at the half, the Tigresses finished the third quarter on a 12-0 run to go up by five en route to a 40-32 victory over upstart Hall.
"I think we had some adversity in the first half. Shots weren't falling. They were getting some easy baskets. Isa [Ibarra] went down there [with an early knee injury]," Princeton coach Darcy Kepner said. "But we never got discouraged. We never hung our heads and they just kept fighting and it paid off in the second half for them.
"We haven't been tested that many times, so it was good to see their resilience and ability to fight back."
Princeton improved to 15-2 overall and 6-1 atop the Three Rivers East.
Hall (7-14, 3-4 TRC East) scored the last nine points of the first quarter, getting a buzzer-beater by junior post Toni Newton on an inbounds play to go up 17-8 at quarter's end.
Newton followed with a bucket in the post to open the second quarter, and McKenna Christiansen added a layup as the Red Devils capped a 13-0 run to go up 21-8.
Then the Tigresses started to roll.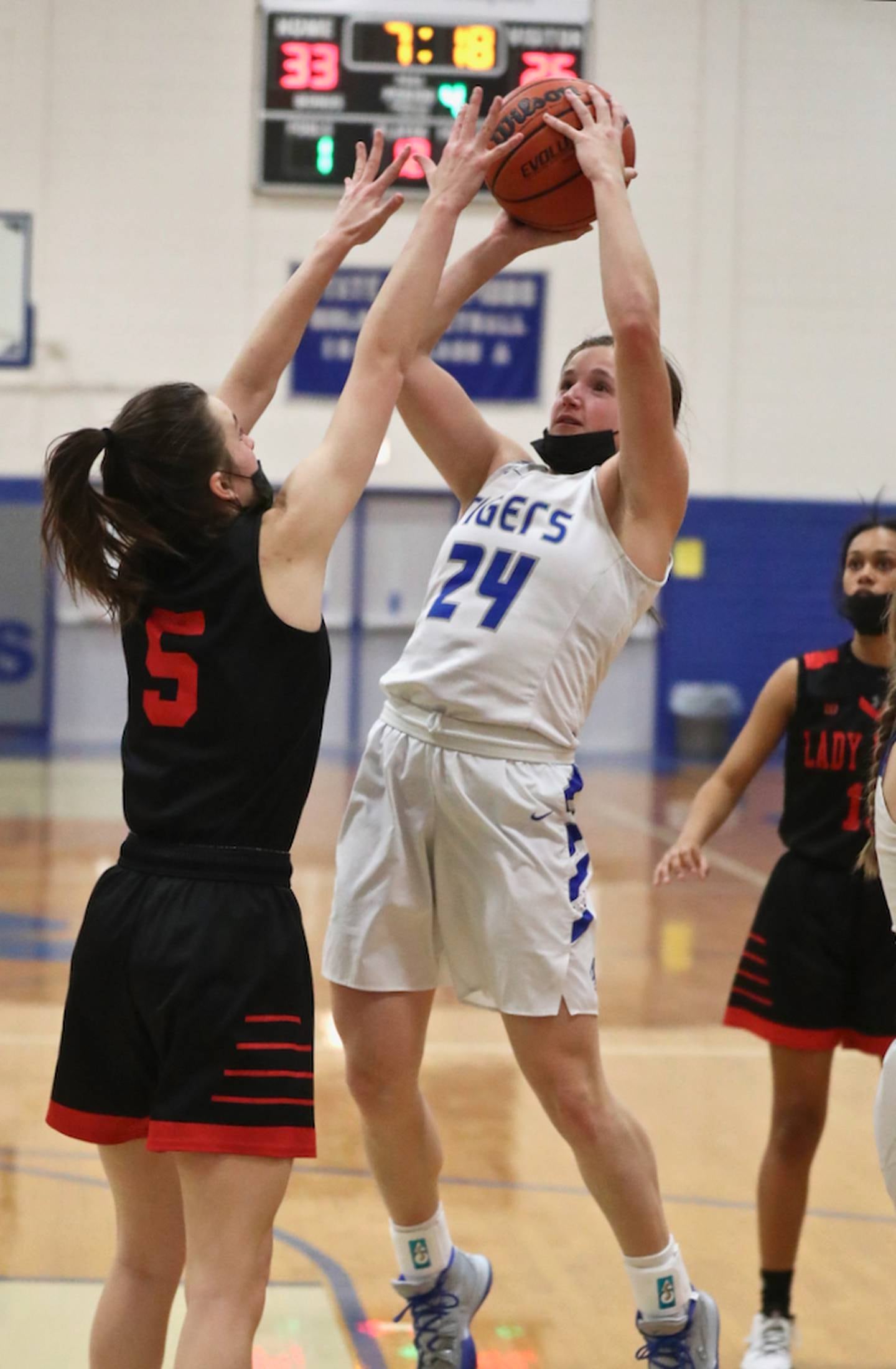 Junior guard Olivia Gartin hit a 3-pointer and 10-foot jumper sandwiched around a pair of hoops by senior forward McKenzie Hecht as the Tigresses closed within 23-17 at the half.
The Tigresses were only warming up.
They answered a 3-pointer by Christiansen by scoring 12 straight to end the third quarter and five straight to open the fourth.
Erin May scored with a pump fake and drive, Hecht had a free throw and a putback to tie the game at 26 at the 2:55 mark of the third quarter. Gartin put back in her own miss and hit a 3-pointer to send Princeton to a 31-26 lead at the end of three quarters.
The Princeton streak continued into the fourth quarter with the Tigresses scoring five more consecutive points. Mariah Hobson scored on the break, and Hecht made 3 of 4 free throws to give the Tigresses their biggest lead of the night at 36-26.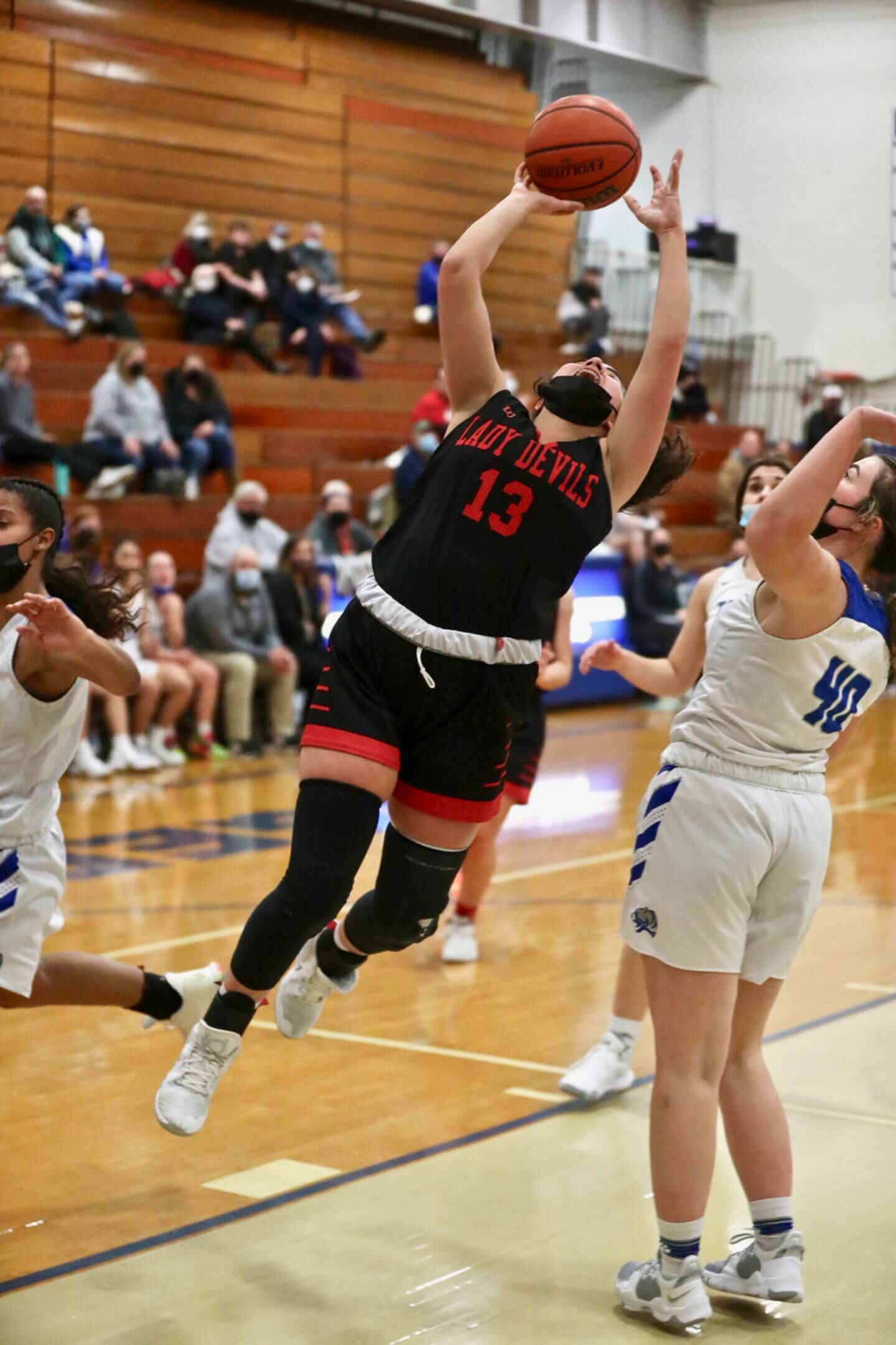 "It was all about having confidence knowing they can score and make some stops on defense," Kepner said. "We knew we didn't have to get back all at once and the girls trusted that and stayed with it."
Hall got within six points twice at 36-30 and 38-32, but no closer, unable to finish the fast start it had.
"Credit to them. They were down and came back. And they got a little bit of momentum going," Hall coach T.J. Orlandi said. "I thought Hecht was the difference tonight. She's just active. She's strong. She's athletic. She kept a lot of possessions alive on the offensive end and got them second and third chances. I think she was really the difference in the second half."
Hecht led the Tigresses with 15 points and 10 rebounds. Gartin added 14 points.
Christiansen led Hall with 15 points. Promise Giacometti and Newton added six each.
Orlandi was pleased with his team's defense and felt they were able to keep up with the athletic Princeton club. Their shooting, however, was a struggle, finishing 13 of 49 from the field for 29% shooting.
"One of ours goal was to hold a team to 40 points or less. I told the girls, 'You don't want to give up more than 10 a quarter,'" he said. "I thought, defensively, we played well. I know we gave up a layup there at the end, but we were keeping them under 40. Defended well. Shots just didn't fall."
And that led to some other trying moments, Orlandi said
"I told them, you'll have games like that. It's a learning experience for us. When our shots weren't falling, the heads were falling a little bit," he said. "I could see confidence go a little. Saw some shots passed up. You could see in the body language and that kind of stuff bleeds into the other end of the court and all of a sudden, you give up an offensive rebound or you give up a loose ball.
"I thought we got shots we wanted. They just didn't fall."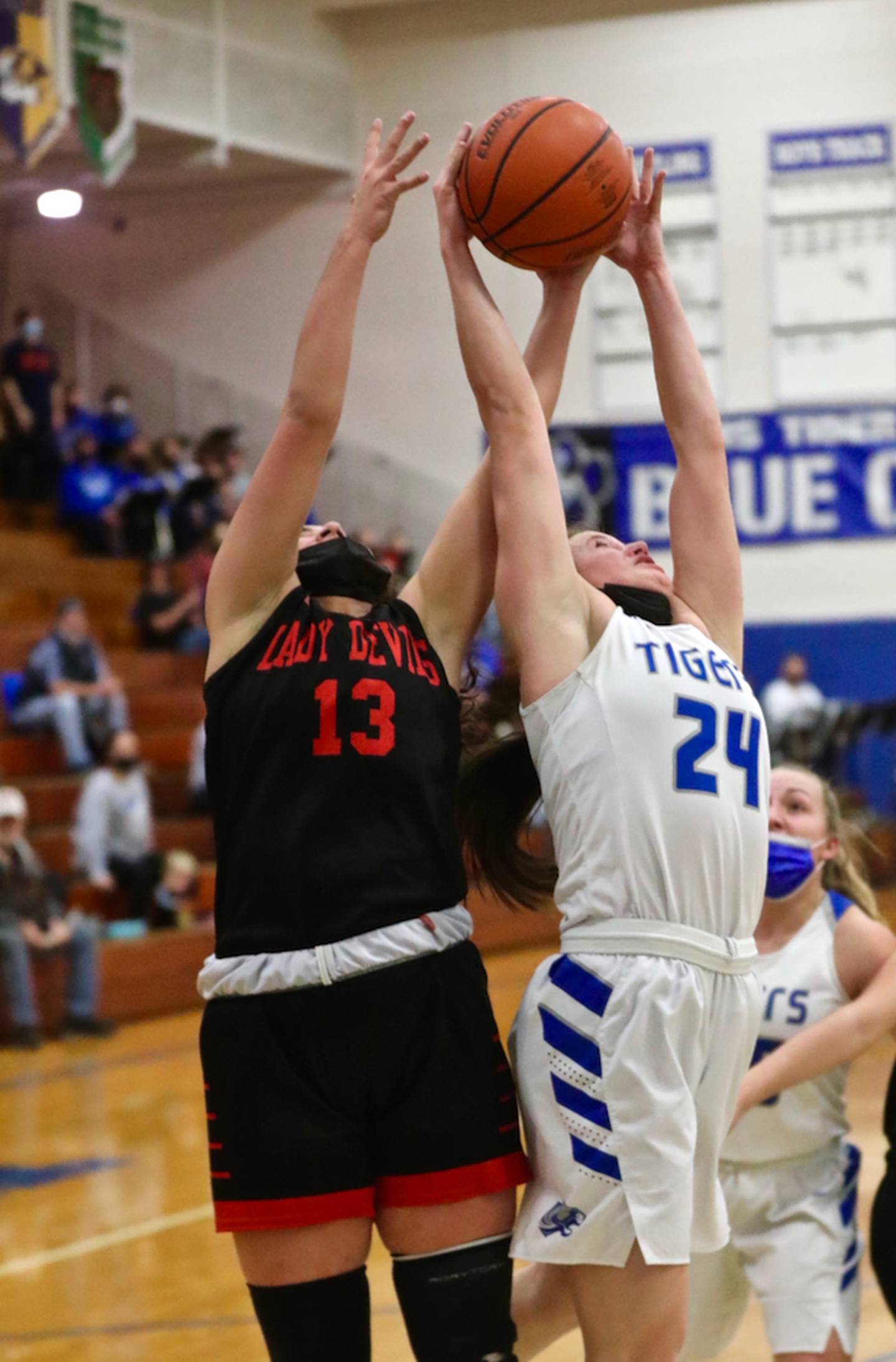 Orlandi said it was good eye opener for his team that will bring back all but senior Mia Mautino next season, while Princeton will bring back much of its nucleus, minus Hecht.
"I told them, this will be the team you compete against next year. You kind of use it as motivation moving forward and as a learning experience to get better," he said. "It's a good group who can do some things next year and even to finish out this year. We're getting better. We're playing better. It's just the little things."
Notes: Ibarra left with a knee injury early in the game and never came back. She hobbled off the court after the game, but Kepner was hopeful she would be OK. ... Princeton also won the F/S prelim, 45-20. Miyah Fox and Olivia Mattingly each scored 18 points. Haylie Pellegrini led Hall with 11 points.