Princeton's Matthew Harris won the 126-pound bracket at LeRoy's Randy Bowman Invite wrestling tournament on Saturday.
He won by 11-2 major decision in the title match.
Also for PHS, Augie Christiansen (28-5) was second at 145, Ace Christiansen (120) and Payne Miller (heavyweight) placed fifth and Kaydin Gibson was sixth at 106.
At Polo: Princeton earned three dual wins Monday, beating Somonauk (59-5), North Boone (65-12) and Polo (45-27).
Miller and Preston Arkles each recorded two pins for the Tigers, while Harris won by technical fall twice.
GIRLS BASKETBALL
St. Bede 53, Mendota 27: Ryann Stoudt scored 15 points and grabbed eight rebounds Monday to lead the Bruins in Three Rivers Conference East play at the Academy.
Leah Smudzinski and Grace Maschmann each added nine points for St. Bede (10-12, 6-2 TRC East), which led, 38-10, at halftime.
Bureau Valley 48, Newman 43: The Storm overcame an 11-point second half deficit to claim a Three Rivers Conference East victory Monday at the Storm Cellar.
Kate Salisbury scored 27 points to lead BV, while Jennifer Etheridge chipped in 12 points.
Princeton 41, Orion 26: The Tigresses (14-2) built a 21-9 halftime lead and scored the first two points of the third quarter to go up 14 in Saturday's Three Rivers crossover game Saturday at Prouty Gym.
Orion (2-16) charged back in the game with eight straight points to pull within 23-17 before PHS closed out the quarter with the final two points.
From there, the Tigresses outscored their guests 20-9 the rest of the way to win going away
"Not our prettiest win by any means, but at the end of the day we got it done," PHS coach Darcy Kepner said. "I thought the girls fought hard the entire game against a physical Orion lineup. We struggled to shoot the ball at times during the game, but our defense kept us in it. Looking forward to some big conference games in the next week and a half."
Senior McKenzie Hecht helped PHS finish off the victory, scoring six of her game-high 16 points in the fourth quarter. Isa Ibarra had nine points and Olivia Gartin added eight.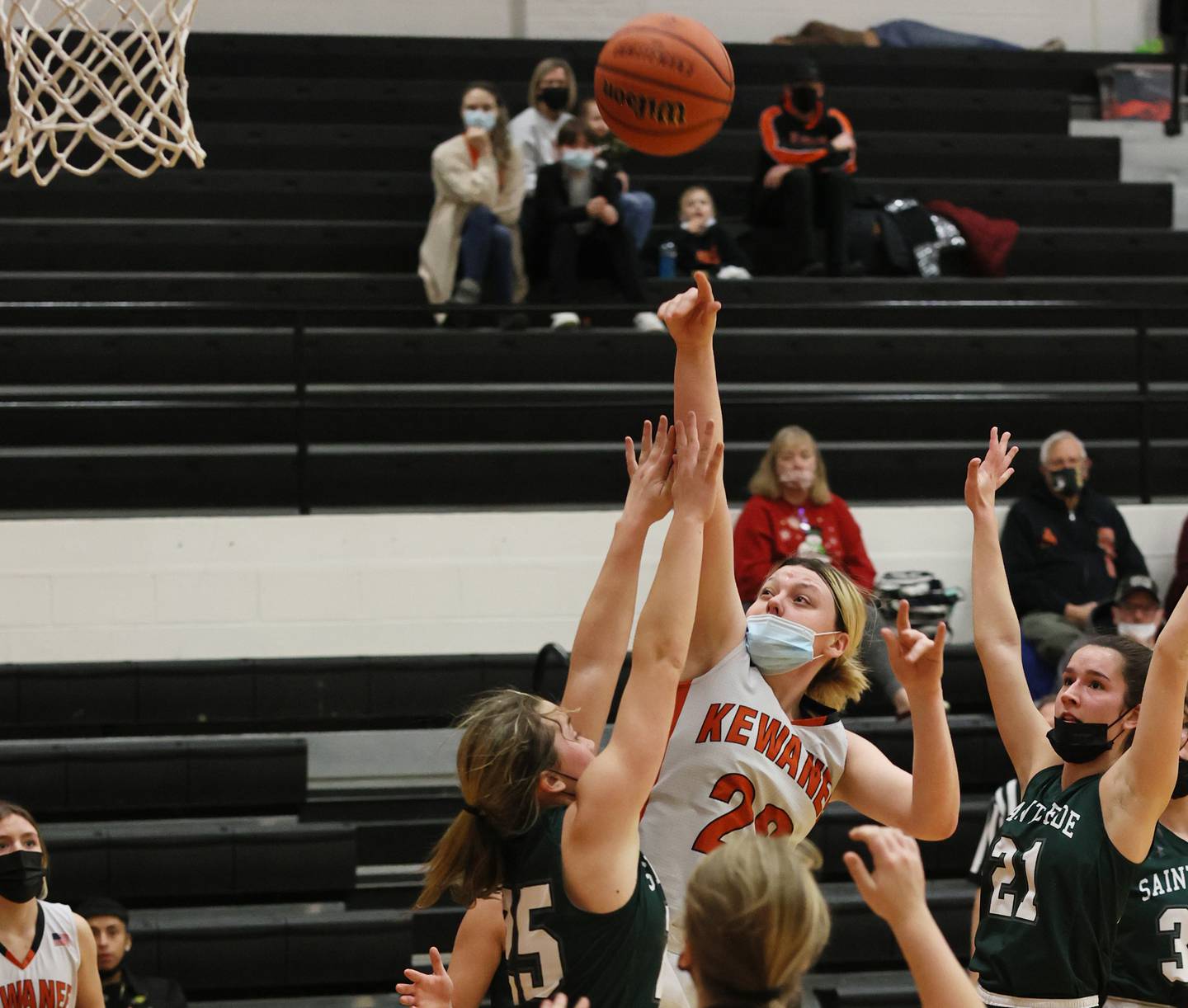 St. Bede 56, Kewanee 34: Lia Bosnich scored 20 points and grabbed 11 rebounds Saturday to lead St. Bede to a Three Rivers Conference East victory in Kewanee.
Smudzinski also had a double-double of 16 points and 11 rebounds for St. Bede (9-12, 5-2 TRC East).
BOYS BASKETBALL
IMSA 43, DePue 40: Andres Moreno scored 27 points and grabbed 12 rebounds as the Little Giants fell in a Little Ten Conference game Monday in Aurora.
BOYS BOWLING
Sandburg Sectional: St. Bede senior Trenton Acuncius rolled a 1,347 series in Saturday's sectional, just one spot and nine pins shy of a state berth. He's listed as a potential at-large qualifier on the IHSA website.
The state meet will be held Jan. 28-29 at St. Clair Bowl in O'Fallon.
GIRLS BOWLING
St. Bede 2,779, Mendota 2,583: Veronica Martin rolled a 525 series Monday as the Bruins earned a Three Rivers Conference victory in Mendota.
Madelyn Torrance added a 520 series for St. Bede.