Princeton's Ryan Pearson has coached football for many years and hadn't seen a game quite like Friday night's with Mendota at Bryant Field.
He saw the Trojans score the game's first touchdown while his team didn't score a single point in the second half, playing at times with their freshman third-string quarterback, who was just one of many news faces put in new places for one reason or another.
The Tigers did put up 28 points, however, in the first half and rode them to their fourth win of the season, 28-7 over the Trojans.
It was the longtime rivals' first meeting in 10 years.
Pearson was pleased to see the Tigers excel with their next-man up approach.
"It's just one of those weird games," Pearson said. "This is 21 years for me. I've never had a game where we went down our first string quarterback and we went down our second string quarterback in the second half. (Freshman) William (Lott) did the best he could. I'm sure he was pretty nervous going in there. I thought he did a great job of managing the offense."
Pearson praised his team's defensive effort to keep an explosive Mendota offense that has put up 57 points one week and 42 last week in check.
"I think our defensive really bailed us out," he said. "We got down, what six kids? We lost Teegan (Davis). We lost Danny (Cihocki). We lost Ean (Compton). Didn't have Matt (Lucas) for the game.
"Seemed like for awhile there we were dropping like flies. We had a lot of kids step up in roles they aren't accustomed to playing and did the absolute best they could. That's a hats off to out kids resiliency."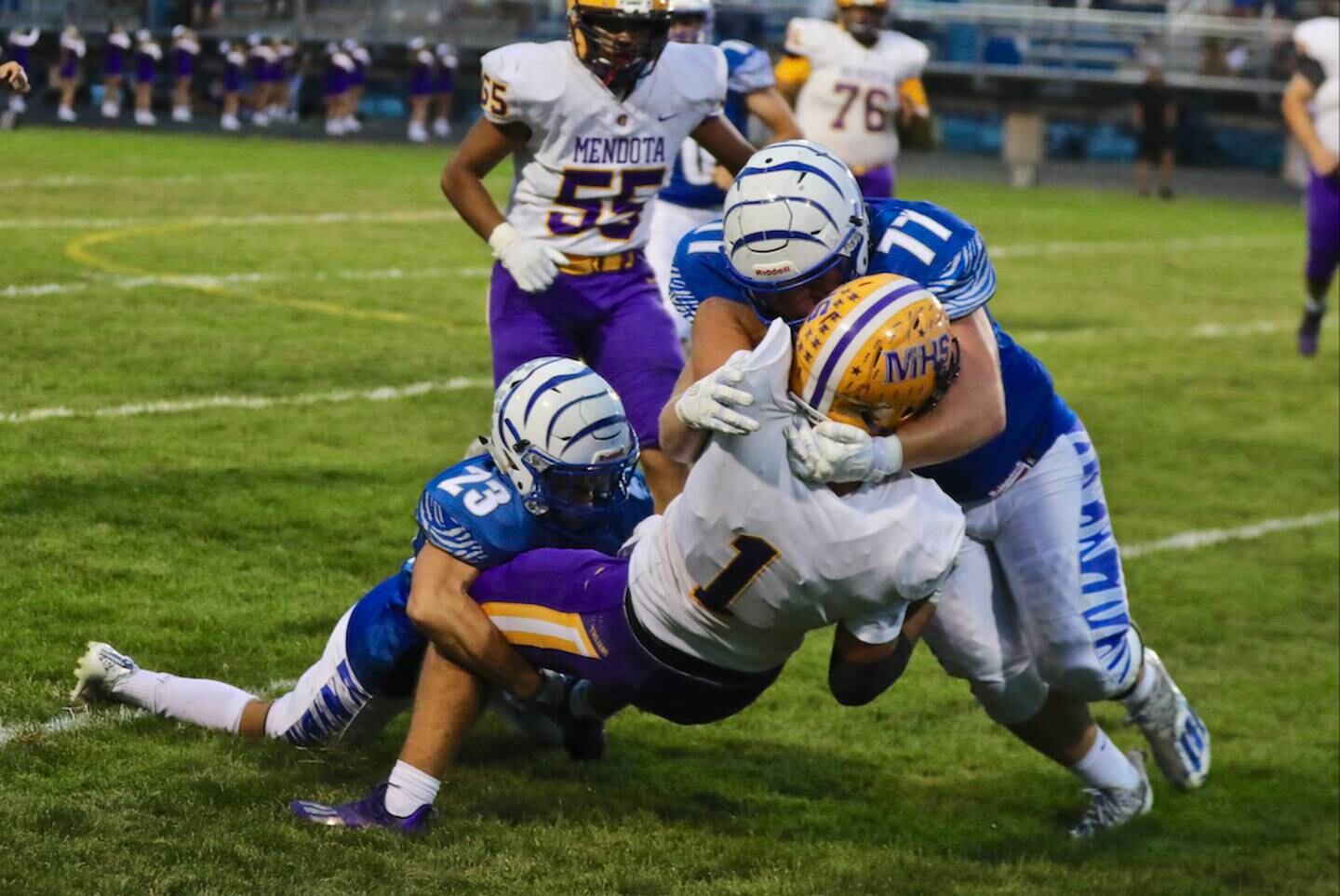 Davis, the Tigers' starting quarterback, threw for 100 yards and two touchdowns in the first half, but left the game after taking a hard hit and did not return for the second half. Pearson said they kept Davis out for precautionary reasons and he is hopeful he can play next week at Kewanee.
Mendota (3-1, 1-1) played the No. 2-ranked Tigers as close as anyone has this season, but Mendota coach Keegan Hill and his Trojans wanted more.
"We're not pleased. Our kids wanted to compete. We had opportunities to do that and they knew it and they expect to get it done," Hill said. "Did we play them better than other people? Sure. But the fact that our group is not satisfied is exciting."
The Trojans struck first with a 20-yard pass from Ted Landgraf to Uzi Angulo to go up 7-0 at the 7:04 mark of the first quarter.
The Tigers answered with a 25-yard TD strike from Davis to Carson Etheridge to tie the game at 7.
Compton, displaying more moves used decades ago by his grandfather, Clarence "Crazy Legs" Compton of Tiskilwa, raced for his second touchdown interception return of the season, going 40 yards to make it 14-7 late in the first quarter.
Davis had more tricks up his sleeve, connecting for a 67-yard TD strike to Cihocki before they both left the game.
Compton, a senior who didn't play in the spring, continued to thrive in the back-up role, throwing for a 10-yard touchdown pass to classmate Logan Glancy with just 40 seconds left in the half to put the Tigers up 28-7 to stay.
Compton completed 5-of-8 passes for 106 yards with Davis completing 3-of-6 for 100. Five different receivers caught passes, headed by Brady Byers (3-46). Glancy rushed for 41 yards.
For Mendota, Landgraf completed 9-of-28 passes for 90 yards and rushed 15 times for 69 yards.
Hill said he saw a lot of good things from his team.
"Absolutely. Hostile environment. Other teams going fast. Have to adjust on the fly going up against good players. So yeah, there was some excellent in-game experience," he said.
"I'm excited to watch some film and grow as a play caller and put our guys in situations even more."
One of the defensive heroes for the Tigers came from an unexpected source in freshman Noah LaPorte, who deflected two Trojan passes in the end zone.
"He did a fantastic job," Pearson said. "It's the first game he'd every played varsity football. I tell you what, I couldn't be more proud of that kid. To be thrown into a game of that magnitude, I thought he responded extremely well."
Princeton will play at Kewanee next week while Mendota hosts Hall in a Saturday matinee.