Princeton had eyes on making amends on its only loss of the volleyball season and jumped out to a 16-10 lead in the first set on visiting Newman Thursday night at Prouty Gym.
Instead, the Comets turned the tables and went on to beat the Tigresses for the second time in two weeks.
Newman ripped off seven straight points on the way to a 25-23 first set victory and held off a late Princeton rally to take the second set, 25-20 in the Three Rivers Conference East Division match.
"We were rolling there that first set and they got us on our heels a little bit, which they did exactly to us what we were trying to do to them and got us thinking a little bit and the next thing you know, we're playing in the second set and we don't have any energy," PHS coach Andy Puck said.
"That's what happens. They stole all the energy from us the first set and turned it into the first nine points of the second set and we were playing catch-up the rest of the way."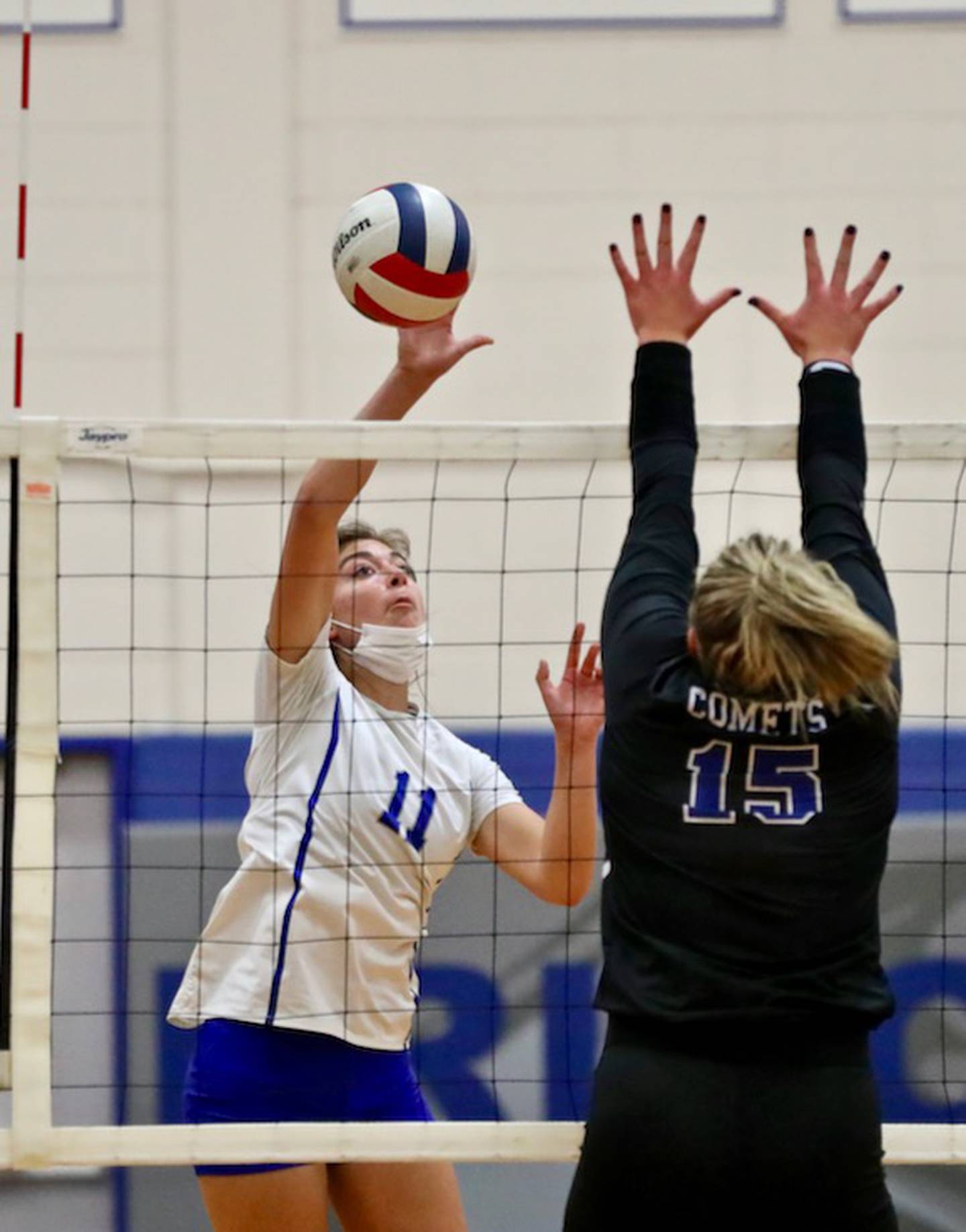 The loss was just the second in 13 matches for the Tigresses (11-2, 6-1), both at the hands of the Comets.
"I told the kids, we're 11-2, we've had two losses to them. We're going to see them again. Think about the positives. Don't dwell on the negatives," Puck said.
Senior Madison Richards made a block to put the Tigresses up 16-10 in Game 1 and hit twice to keep PHS up 18-15. That's when the Comets took charge, scoring seven straight with some help of aces and PHS hitting errors to go up 22-18.
Newman went up 24-20, only to have the Tigresses rally within 24-23. After a timeout, PHS was called for being in the net to give Newman a 25-23 opener.
Newman coach Debbi Kelly knew it would be another good match with Princeton.
"We were looking forward to this match. We know it's always going to be a battle," she said. "They came out of the gates much stronger than we did. It took us awhile to get off our heels and really get playing. We were able to get that momentum changed, stuck to our game plan, made some adjustments I thought worked well and had some role players kind of step up and get some touches on balls, come in and play defense and rip off some serves and got us going."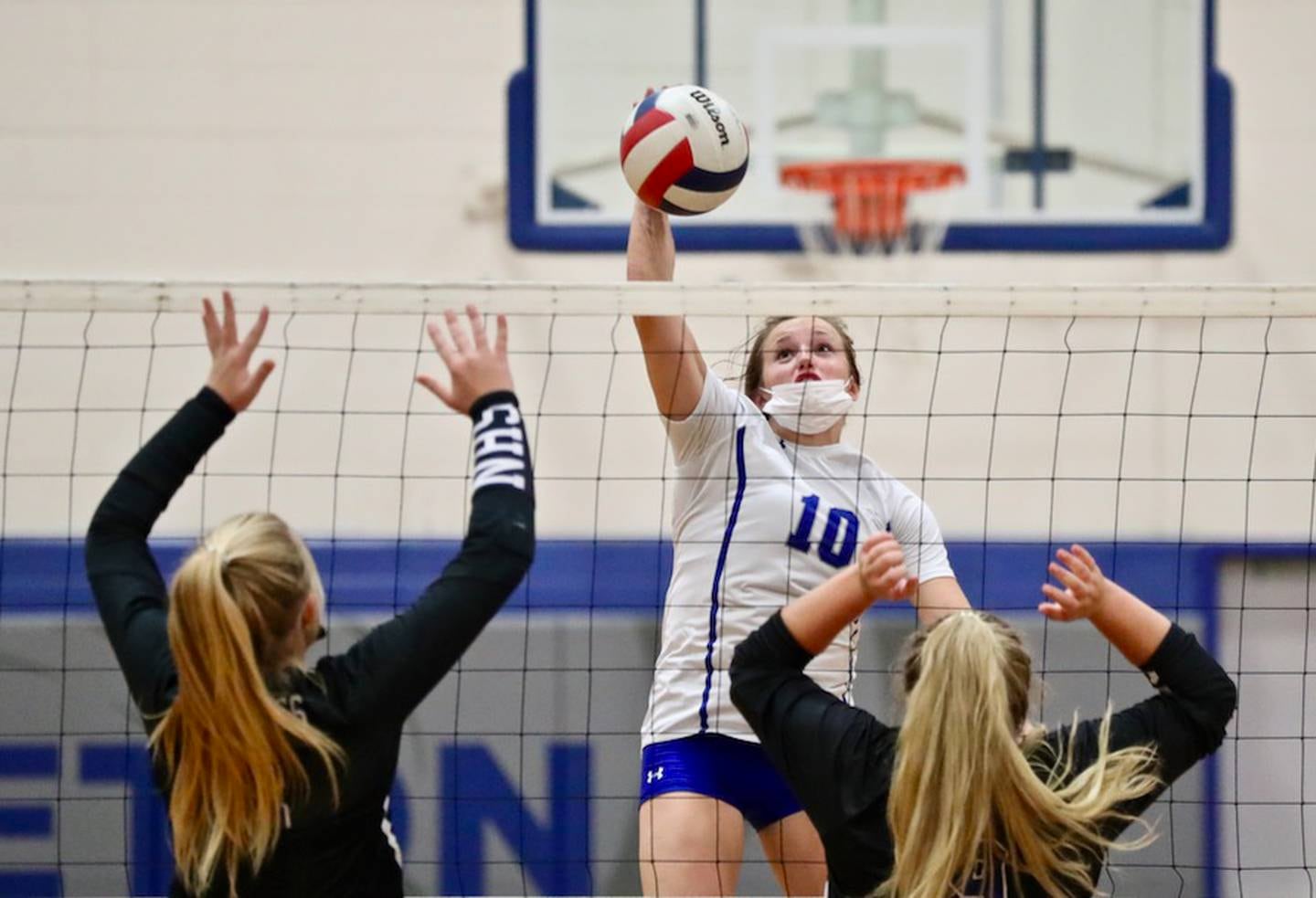 The Comets carried that momentum into Game 2, taking leads of 13-5, 16-6 and 18-8.
Junior Isa Ibarra came off the bench to serve for a PHS point to make it 20-15. A hit by Richards made it 21-17 and one by McKenzie Hecht made it 22-18.
But that was the closest the Tigresses would get, falling 25-20.
"We finally showed some spark. We finally got a little aggressive," Puck said.
Senior setter Katie Bates had an all-around night for PHS with a team-high 12 points, 12 digs and 20 assists. Richards had eight kills, Maya Gartin had seven kills and Hecht added six.
For Newman (13-2, 6-0), Jessalin Johnson had eight kills and eight digs, Ally Clevenger and Kennedy Rowzee each had seven kills, while Paige Grennan made 13 digs.
Puck believes it's becoming more mental than anything for the Tigresses when it comes to playing Newman.
"I think it's between the ears more than anything," he said. "We were prepared and fired up that first set. Couple calls didn't go our way and kind of got down a little bit. I don't think it's necessarily anything we can tweak. We executed what we worked on in practice yesterday. We just have to execute all the way to 25 points.
"We didn't do that the first set. Basically, who wins that first set wins the match. They punched us in the mouth and that rolled into the second set."
Puck praised the Comets for handling the notoriously boisterous PHS student section, which is by no accident placed across the opposing team bench throughout the match as teams no longer change courts due to COVID protocols.
Kelly said her team passed the test with flying colors because PHS fans are dressed in blue just like theirs.
"We just told them to act like they're our fans. They're the same color and yell a lot of the same stuff our fans would yell. Just pretend they're cheering for you," she said.
Notes: Katlin "KP" Peterson returned to the PHS staff this year with the freshmen team after coaching at Newman. She got a hug from Kelly following the night's action. ... Newman won the sophomore match with a pair of 25-18 wins while the PHS freshmen won in three, 25-12, 24-26, 25-5.