Serenity Stone sounds just like any other member of the Bureau Valley football team when asked why she plays football.
"Mainly, because you actually get to hit someone without getting in trouble about it," she said with a smile.
Stone, who plays offensive and defensive line for the Storm JV, is just one of the "guys" on the team. She said being a girl on the team is really no big deal for the boys, because "I think they're just used to it now."
She likes playing defense better, she said, because she gets to do the hitting.
BV seniors Adam Johnson and Jaden Michlig said Stone fits right in with the team.
"Serenity is awesome. She shows up to practice every day and works extremely hard," Johnson said. "I'm sure being the only girl on the football team can be difficult, but she fits in great with the team, and everyone has welcomed her with open arms."
"It takes a lot of guts to come out and play with a group of guys, but we all treat her no different and honestly she is going to be a great player with a big heart," Michlig said.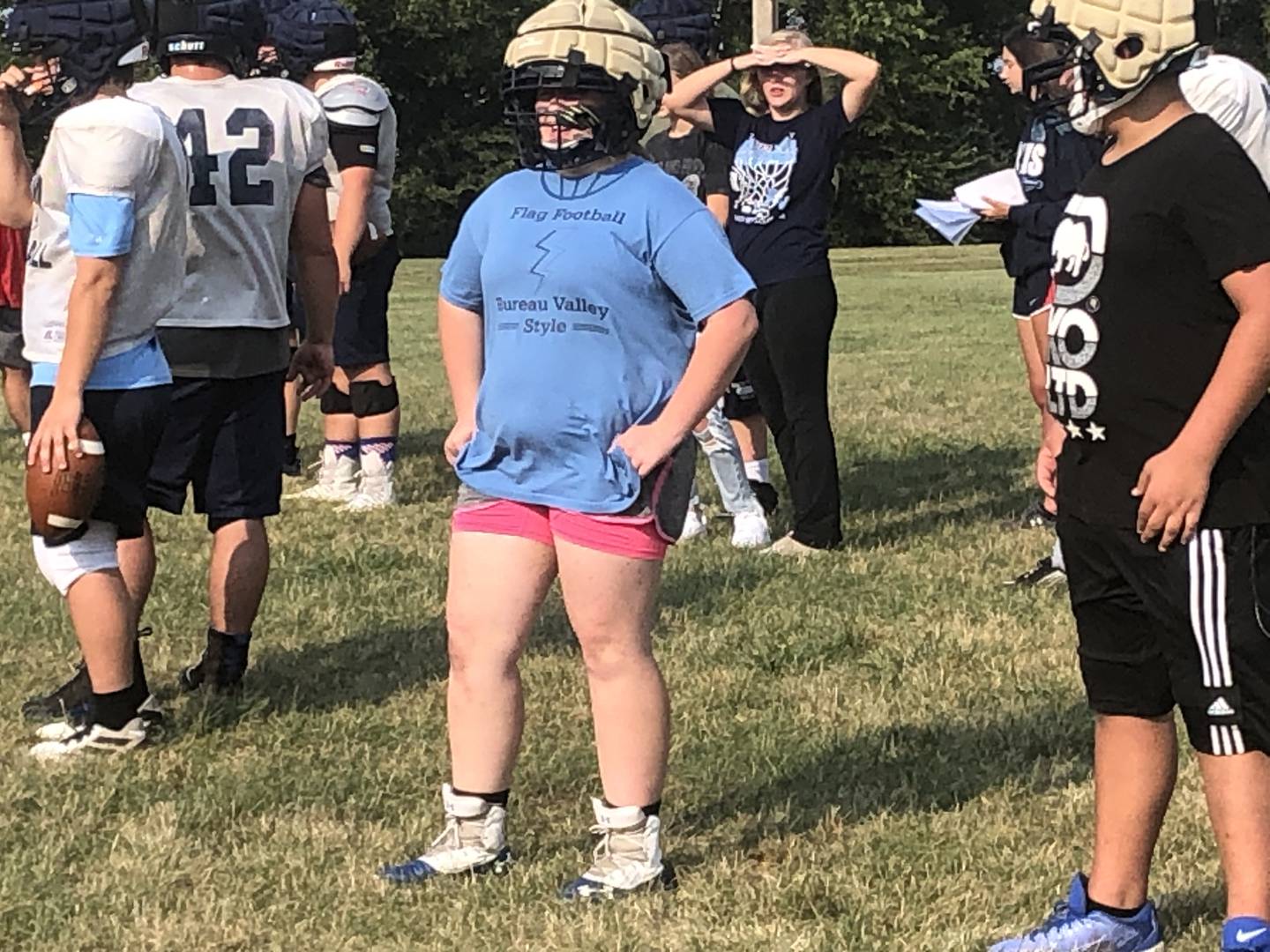 Johnson gives Stone the ultimate compliment when he says, "She's a football player."
Longtime Storm assistant Craig Johnson said Stone has been a great addition to the team.
"She has done an awesome job. Always comes to practice with a great attitude and has fit right in with the guys," he said.
Stone has not played football since the sixth grade in JFL. The eighth-grade season was canceled due to COVID-19 and she sat out the seventh-grade season.
"I missed playing football and then COVID hit. When it came back, I thought, 'Why not,' because I missed playing it and always saw my cousin playing it," she said.
The F/S Storm tied Sherrard 6-6 in this week's game. Stone said she's hoping they can win their next game and "I get to be on the field a little more."
Kevin Hieronymus has been the BCR Sports Editor since 1986. Contact him khieronymus@bcrnews.com