The more things changed in 2021 the more they stayed the same for Matthew Harris.
In the craziest of years, the Princeton High School junior wrestled his way through regionals and sectional as runner-up to qualify for state, this year hosted by the Illinois Wrestling Coaches and Officials Association rather than the IHSA, because of COVID-19.
Harris was back in the state finals where he was as a freshman, only this time he stepped up to the podium, placing fourth at 126 pounds, the best finish of any area wrestler.
He won more matches than any other grappler, finishing at 25-8.
For all of his accomplishments, Harris is the 2021 BCR Wrestler. He earned the same honor as a sophomore during the 2019-20 season.
It's all most deserving, PHS coach Steve Amy said.
"He's been wresting so long, he puts in the extra time. That's what it comes down to. It's hard to get kids to do that," Amy said. "He doesn't mind taking a few hours out of one of his nights a week, two nights a week to do that."
"He put so much time in last summer during the pandemic. We were still able to wrestle the whole time. He's one of those kids who just continues to wrestle, wants to wrestle, always looking to get better."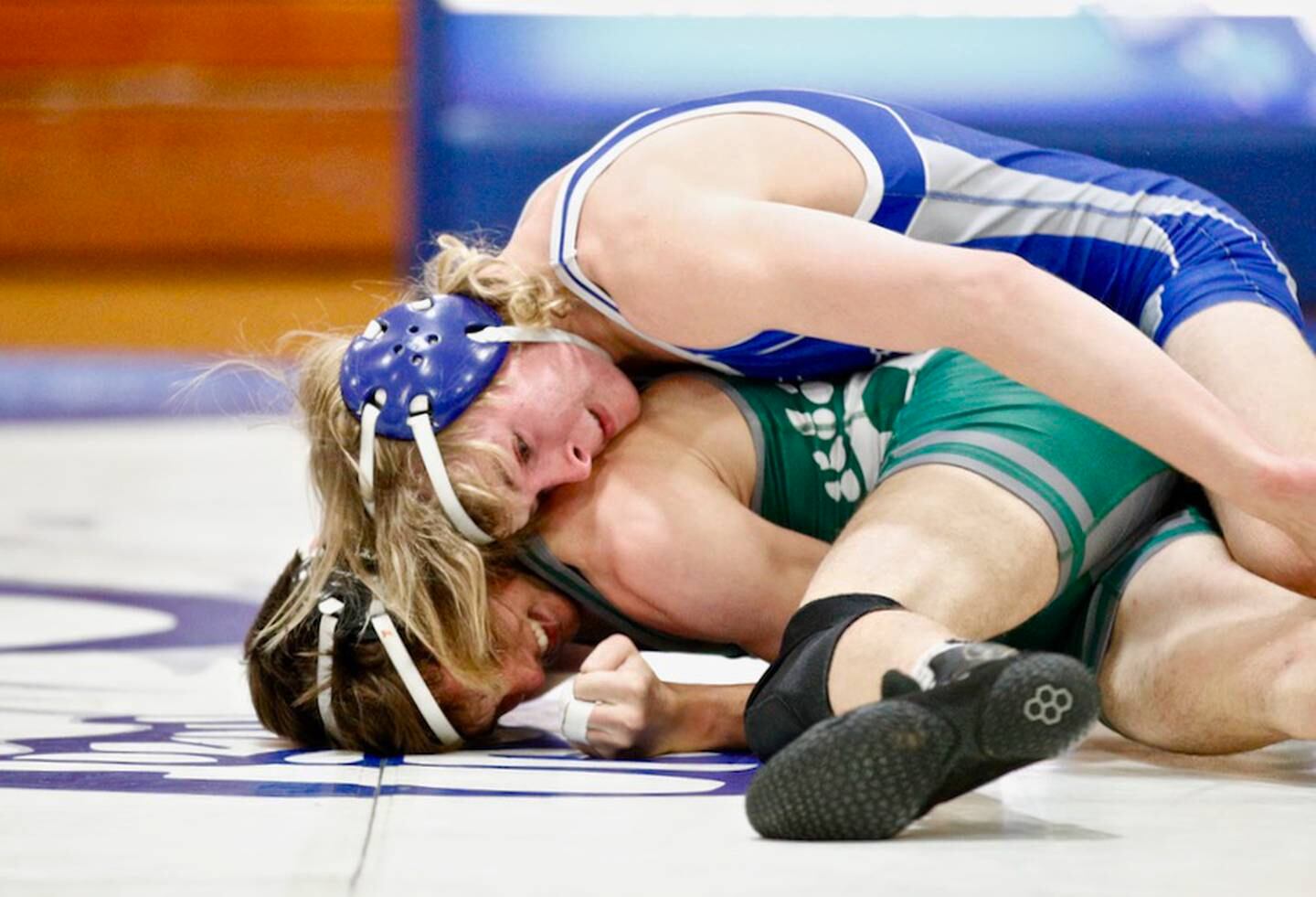 Summer wrestling
Typically, wrestlers would be wearing winter coats and stepping through snow drifts on the way to practices and meets. This season, held in the "summer" due to the revamped IHSA COVID season, state wrestlers could cut weight working outside in the sun rather than inside in a "sweatsuit."
"It was definitely different because it was in the summer and not the winter. It started feeling more like a normal season at the end," Harris said.
And while the IWCOA State finals were held at the Springfield Bank Center rather than the State Farm Center (formerly the Assembly Hall) in Champaign, Harris said it was pretty similar with the Grand March and all of the state finals happenings.
"It was pretty cool. It was really similar, but a little bit different, because it was a different stadium. I'd much rather have that than not have the state series," Harris said.
"It felt pretty good that we at least we're going to get some matches. When it opened that we were going to get to have state, it was another six or seven matches we got, so I was real happy about that.
"It would be nice to have a normal matches and normal season, but it's better than nothing."
Amy said Harris' postseason accolades should be no different than any other year.
"(He's) still going to get the green (state) sign on the balcony. We're counting it the same. The school should still give him a blue sign (on the corridor of champions). The same teams are there. Still had to go through the same qualifiers, state tournament. It was just like normal once we got going," he said.
Amy praised the IWCOA for offering Harris and all the wrestlers a state series.
"The IWCOA had a ton of work ahead of them, but were able to put on that state series for them.
Road to state
The IWCOA state series started for Harris and the Princeton wrestlers at Sandwich. Harris, who was ranked No. 8 by IWCOA, was one of six Tigers to advance to sectionals, going 2-1 and finishing as the 126-pound runner-up.
Back to Sandwich, Harris again took second at sectional. He went 2-1, winning by a 15-0 tech fall and by a 7-6 semifinal squeaker, before losing by a 1:38 fall to Sandwich's Evan Reilly in the title bout.
At State, Harris was on top of his man in the third-place match, but got too high on his hold, and Zach Foote of Camp Point Central was able to turn Harris and pin him at 4:43.
Harris said it's just "stuff to get better on so it doesn't happen again next year."
Harris went 4-2 on the day at state, losing only to Foote, who also pinned him in the quarterfinals at 3:53.
Senior season
Harris has unfinished business wth the IHSA tournament. He didn't make state as a sophomore and didn't win a match in his trip as a freshman and would like to make amends.
"Hopefully go on a good note, being my senior year," he said. "Keep our team ready for the season and try to drive everyone to be the best we can. Keep working harder and harder to get ready for next year's state."
He already holds PHS' tech fall record and is approaching the near-fall records. With 90 career wins under his belt, Harris will be closing in on the 100 wins early in his senior year, with an eye on the Tigers' top 10 all-time. Ty Taylor (2004-08) holds the school record with 166 wins.
"Hopefully we can get on top of the podium. Moving up. Get him in the finals. Good things happen when you're there," Amy said. "That would be the main goal. Still a lot of work to be done to get to that point, but it's doable."
And Harris will work his best to make it happen.