One of Princeton's newest establishments, Downtown Pub & Event Center, features a fast-casual menu in a small café tucked in a quiet hallway behind the bar area.
The menu highlights a good-sized selection of appetizers, including classic favorites like cheese fries, chicken strips, onion rings and mushrooms, along with more upscale options like garlic cheese curds, mac and cheese bacon bites, and jalapeño cheddar potato bites.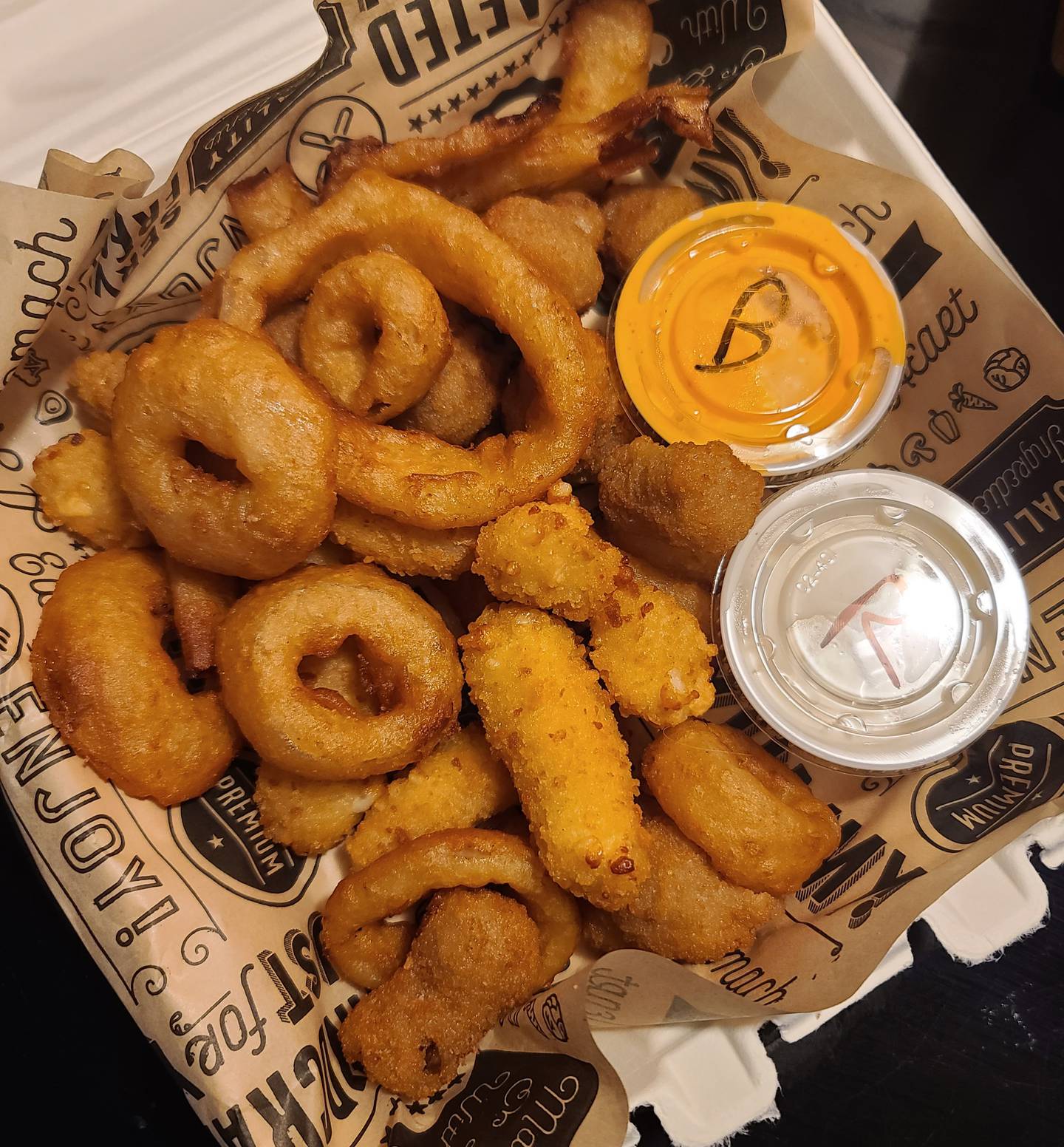 My crew opted for a sampler, which features a choice of three items from a select group of apps for $11. We chose Wisconsin cheese curds, lightly battered and fried to perfection; onion rings freshly battered and delicious; and breaded mushrooms, a traditional favorite. The combo comes with a choice of dipping sauces; we picked ranch and bang bang sauce, a kind of spicy, elevated ranch.
For entrees, we wanted to try a full spectrum from the menu of salads, flatbreads, sandwiches and burgers, so we opted for a Caprese flatbread, a mushroom and Swiss burger, fiesta steak wrap, and chicken strips with cheese fries.
I was quoted 15 minutes for pickup on the order, and to my pleasant surprise, the kitchen staff was packing my order when I showed up in exactly 15 minutes. I waited a few extra minutes for the flatbread, after both owners told me the first one got a little overdone, and they were remaking it for me, which I thought was excellent service.
The food was steaming hot and fresh when I got home, and the dishes delivered on flavor and price, feeding a whole crowd for $56.
The flatbread was perfectly toasted, covered in melted mozzarella, with pesto, cherry tomatoes and a balsamic glaze. The size is perfect for an appetizer or lighter appetite, and the restaurant offers several different options for flatbreads, including pickle pizza, pulled pork, Buffalo chicken and more.
The steak wrap, again offered in several flavors, was nicely seasoned and full of grilled steak with veggies served in a spinach tortilla, and accompanied by a side of seasoned fries.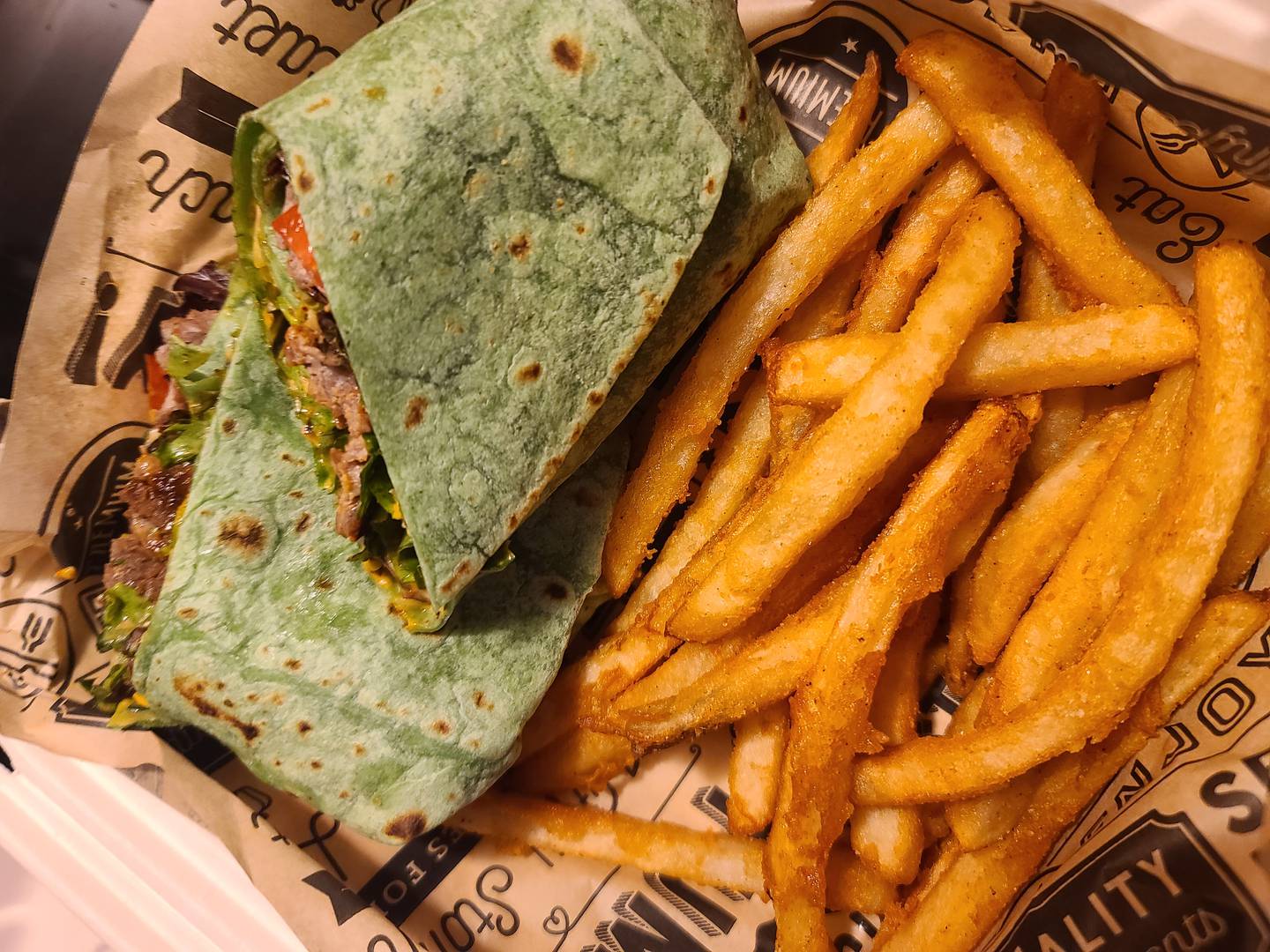 We opted for mushroom and Swiss for the burger, which was freshly grilled and tasted homemade. The burger was, for me, the perfect size; if you're looking for a monster burger that's going to put you in a food coma, this probably isn't it, but it's well-executed and worth ordering.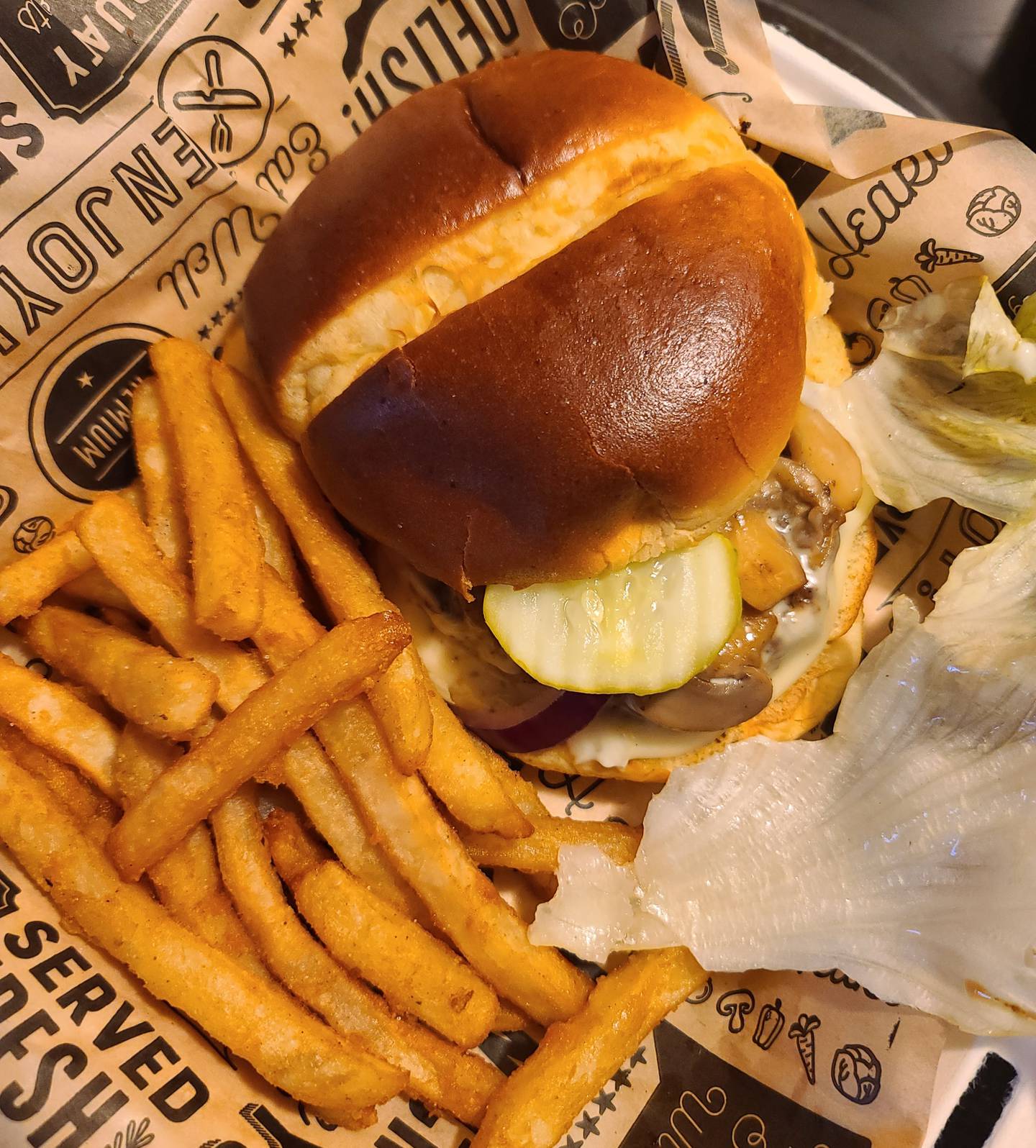 Currently, the food menu is available beginning at 4 p.m., and you can order in the café or bar area for dine-in or carryout.
Prices are reasonable, service is fast and friendly, and the menu is extensive enough to offer something for every taste without being overwhelming in its selections.
• The Mystery Diner is an employee at Shaw Media. The diner's identity is not revealed to restaurant staff when ordering or picking up the food. The Mystery Diner visits a different restaurant and then reports on the experience. If the Mystery Diner cannot recommend the establishment, we will not publish a story.
IF YOU GO
WHAT: Downtown Pub & Event Center
WHERE: 432 S. Main St., Princeton
PHONE: 815-915-8395
INFO: Facebook at tinyurl.com/2wevdaup