McKenzie Cain has been the cheer sponsor at Princeton High School for three years, directing her girls in leading the cheers for the Tigers football and basketball teams.
This time, the cheers were for her.
She spent the day Saturday cheering for her boyfriend, Gary Merkel Jr., racing in the DePue Boat Races.
Her mom and step dad flew up from Texas to watch Gary race, but McKenzie did not think anything of it because they had talked about the races at Christmas and Gary invited them to come up to watch him.
As normal when her mom comes home, her siblings come to see her. So, McKenzie said it didn't strike her as funny when so many of her aunts and uncles showed up.
And all of her grandparents were in attendance that day as well, but she just assumed it to be a big family reunion.
Now there were a couple of friends there that McKenzie questioned, "Why are you here?" But everyone had solid excuses and no one hesitated, she said.
But aha, they all had other reasons.
Gary finished the third heat in the 350cc hydroplanes, which was the last race of the morning before intermission. McKenzie said she set her phone and stuff down next to her aunt's cooler and noticed a confetti popper and had some suspicions.
"As soon as I asked why she had that, Ray Rodda came over the intercom paging me to the PA booth. It was at that point that I knew it was happening. Almost instantly I started crying," she said.
Gary proposed to her on the shores of Lake DePue, a moment the visibly shaken McKenzie shared with thousands of race fans, family members and friends. He had a sign that said, "I'm racing to see if you will become my wife. Will you marry me?"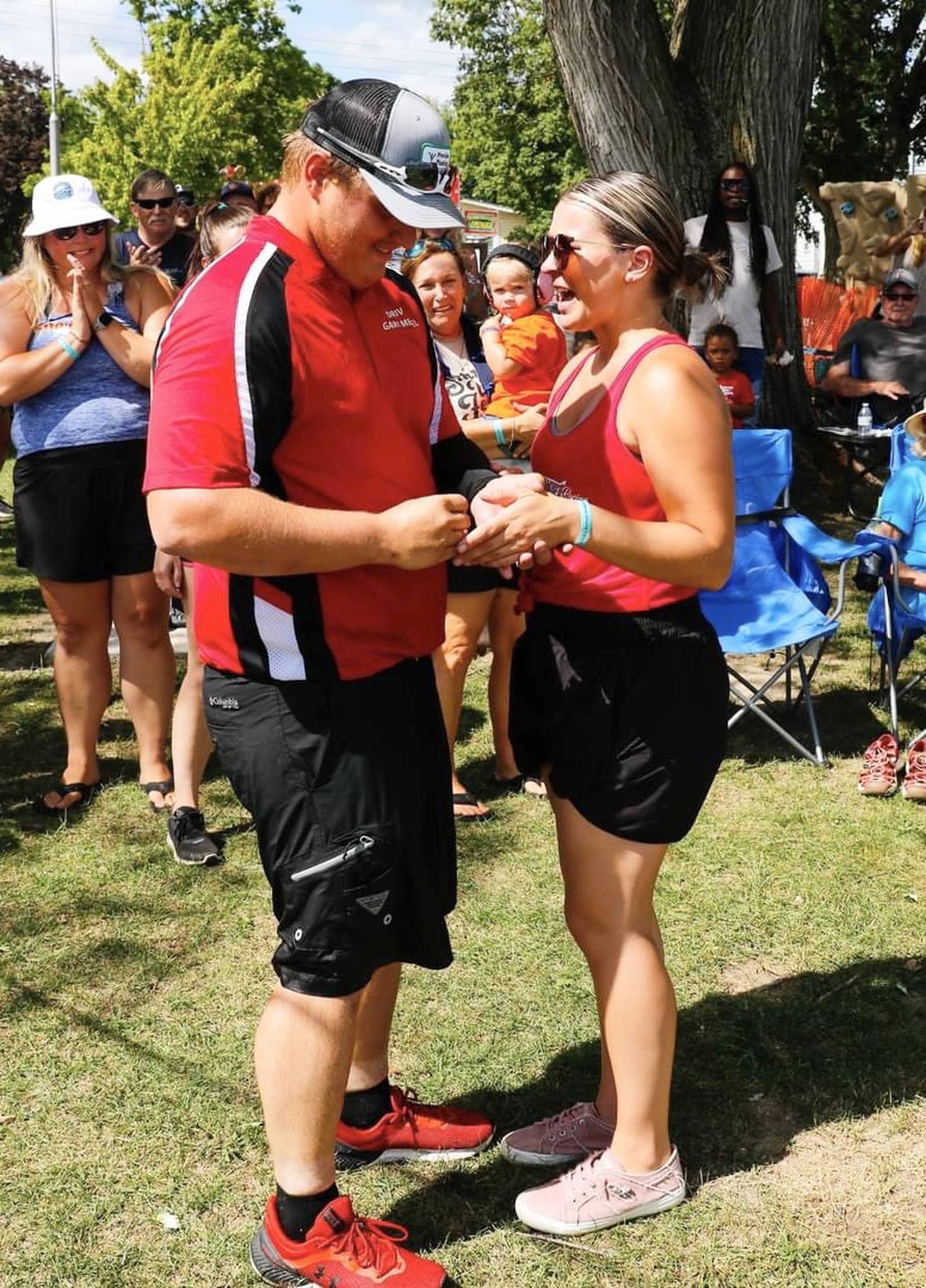 While it was the big surprise of the day, there were more to come. After Gary proposed, a group of Mckenzie's friends, who were hiding just like 50 feet away from her all morning long, stepped out of the shadows to surprise her.
"Had I seen them I'd have known something was up! The coordination was impeccable and I hate surprises so he REALLY got me," she said. "They all tried to make EVERY single detail perfect."
Except for her nails. A friend had taken McKenzie to get her nails done before the races and she didn't bother getting anything fancy, because she figured "they'd be trashed" by the time she got done helping out in Gary's pit crew.
All she could think of was, "Gary's proposing to me right now and I have chipped clear nail polish on."
Gary said the boat races seemed to be the perfect setting to pop the question.
"With me being a team owner and driver, I have a very close relationship with all the the racers and crew from all across the United States and Canada," he said. "I introduced Mckenzie to the racing family a little over a year ago and she made a lot of friends in the racing community. So since the capital of boat racing is DePue and that being my home course, all of her friends came for the ultimate surprise.
"And to top it, Ray Rodda announced it for us so all the race fans got to hear it. I was more nervous about her finding out or thinking something was weird due to everyone being there watching me race. I've been ready for awhile to ask her, it came down to the best time to do it."
While Gary may not have won the race, McKenzie said, this was "still a 'Nationals' Win' for both of us.
"When we first started dating [June 2022], we both knew this was going to be a forever kind of thing."
Kevin Hieronymus has been the BCR Sports Editor since 1986. Contact him at khieronymus@bcrnews.com