The late musician Michael Heaton, a 1985 Batavia High School graduate, performed his fair share of shows in Batavia.
Heaton's life, music and philanthropy will live on as part of a permanent memorial plaque at the Peg Bond Center in downtown Batavia that was unveiled recently.
"This is a true testament to who he was as an individual," said Heaton's wife, Kristy, prior to the plaque being unveiled. "It's a testament to how extraordinary his friends and fans and family were as well. You showed up for all these [benefits for Mike] and you showed up for me too, to help me get through the hardest time of my life."
Heaton, a Montgomery resident, died in December 2019 after a battle with cancer. He was 53.
In August, musicians who knew and worked with Heaton performed his songs at the Peg Bond Center. The two-hour concert was part of Windmill City Festival in Batavia.
The concert capped a fundraising effort by family, friends and fans to create the permanent plaque as well as create a Michael Heaton musical scholarship, which will be awarded annually to a local student. The scholarship will provide the student with a new guitar and a year of guitar and songwriting lessons.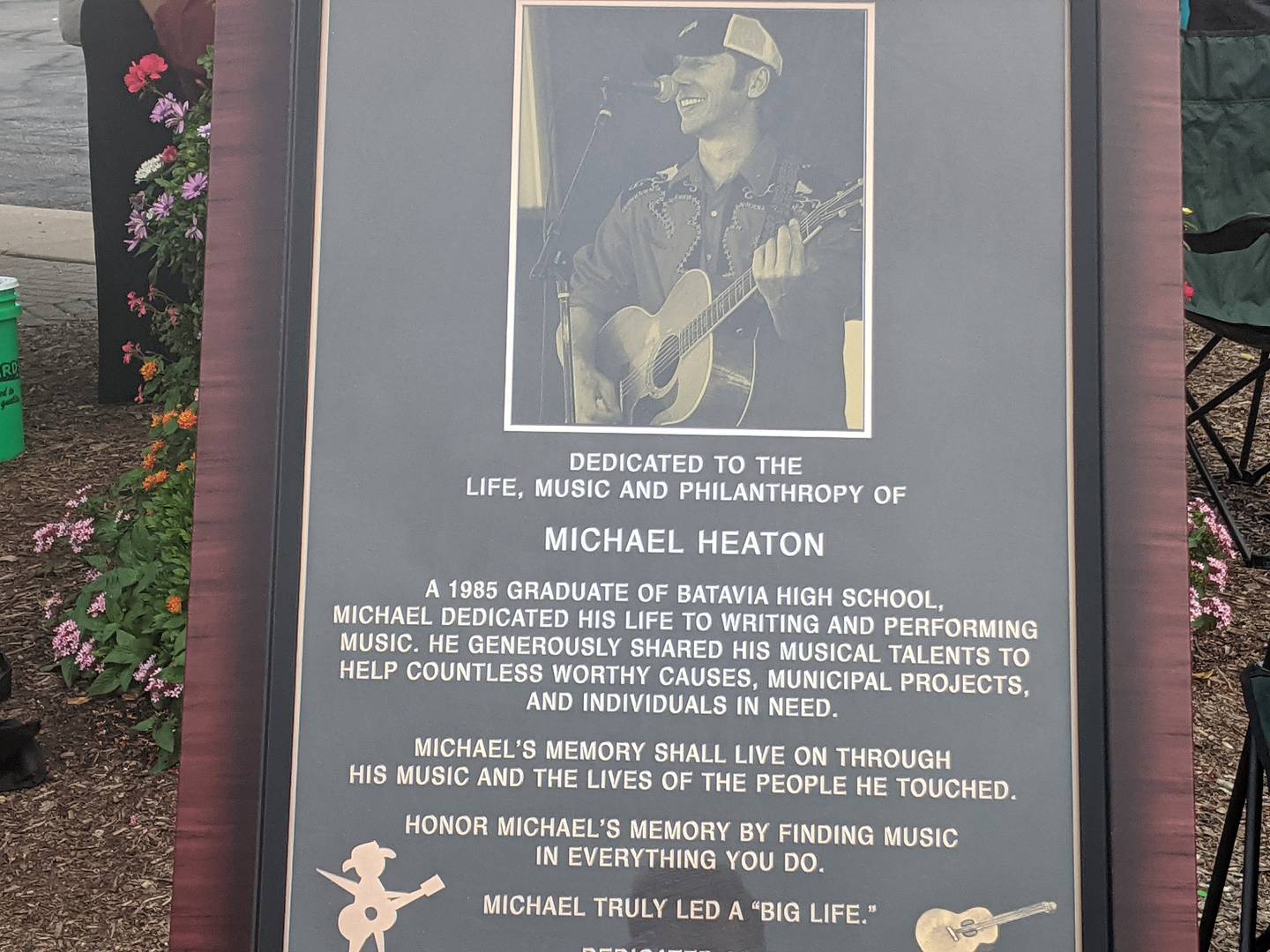 Rick Cremer of North Aurora-based Cremer Guitarworks is supplying the guitars, and Jeff Matters of Music Matters School of Music in Batavia is providing the lessons. The scholarship will be managed by the Batavia Foundation for Educational Excellence.
Chris Hall of Geneva created a GoFundMe page, gofundme.com/f/michael-heaton-memorial-plaque-and-scholarship, for the memorial plaque and scholarship. During the plaque ceremony, Hall announced that five scholarships are now fully funded.
"And I've got a company that's looking to maybe sponsor this every year," he said. "So this could be an ongoing scholarship thing for quite a number of years."
Heaton had used his musical talents to help out many causes over the years. As Heaton's good friend Mark Collins noted, he had a caring nature.
"Mike would do anything for any one of us, let alone people he didn't know," Collins said. "And that's what I thought was exceptional about Mike."
Collins also believes Heaton would have been "truly humbled and maybe a little embarrassed by all this."
"For a guy who spent a lot of his life in the limelight doing music and stuff like that, I don't think he really liked the limelight," Collins said. "I think he would … just rather blend in with everybody else and hang out."