r1. With entertainment, food, a carnival and fireworks, the four-day Huntley Fall Fest is set for Thursday through Sunday, Sept. 26, at Deicke Park, 11419 Route 47.
The fairgrounds are open from 6 to 10 p.m. Thursday, 5 to 11 p.m. Friday, 10 a.m. to 11 p.m. Saturday and 11 a.m. to 7 p.m. Sunday, according to the festival website. Admission is free.
Appearing on First National Bank Stage is Serendipity and Hillbilly Rockstarz on Thursday; Modern Day Romeos and Hi Infidelity on Friday; Barracuda HEART Tribute, An American Prayer – Doors Tribute, The Lounge Puppets, Pino Farina Band and 7th Heaven on Saturday; and Jak Tripper, My Metal Heart and Rok Brigade on Sunday.
The festival also will offer hay rides, car and tracker shows, a model train display and kids activities, including a trackless train, inflatables, pony rides, petting zoo, magic shows, ice cream eating contests, and appearances by Staley the Bear, the Chicago Bears mascot, and Tommy Hawk, the Blackhawks mascot.
For information, go to huntleyfallfest.com.
2. A two-day string of concerts in McHenry will feature '90s rock bands Sugar Ray and Smash Mouth on Friday, followed by country singers Brantley Gilbert and Chase Rice on Saturday.
Organized by the RISE Up Foundation, the concerts aim to raise funds to build a splash pad at the Fort McHenry park in McHenry, according to the foundation's website.
The event will take place at Petersen Park off McCullom Lake Road in McHenry. Gates open at 5 p.m. Friday and 5:30 p.m. Saturday.
Tickets start at $15 for Friday, and $45 for Saturday. They can be bought online at bigbangfestivalsproductionllc.thundertix.com. Food trucks will be available on-site, and drink tickets can be bought in advance online.
For information, go to riseupfoundationmchenry.org.
3. Competitors of all ages are welcome at the Back-2-School Skate Park Contest this Saturday in Lake in the Hills.
The contest, which runs 11 a.m. to 2 p.m. at the Richard Taylor Skate Park, 1107 Crystal Lake Road, offers three divisions, skateboard, scooter and bike, with three different levels, beginner, intermediate and advanced.
All skate contestants will be guaranteed one qualifying one-minute run for the crowd and judges, according to the event listing. Top scorers from the first run will then skate a second and final run.
Participation costs $10 for Lake in the Hills residents, and $12 for nonresidents. Snacks and beverages will be provided. A waiver must be signed by a parent or guardian if the skater is younger than age 18. Helmets are required.
Registration can be completed online at bit.ly/SkateParkContest.
4. The Johnny Appleseed Festival is set for Saturday in downtown Crystal Lake, and organizers say it promises to be the "biggest and the best" in its 28-year history.
Named in honor of the historic orchardist and nurseryman, the Johnny Appleseed Festival takes place each September around the birthday of John Chapman, or Johnny Appleseed, who was born in September 1774.
Activities include wagon rides, children's games, pie baking contest, face painting, dancing and a Johnny Appleseed impersonator to tell stories of seeding orchards in the frontier days of 1812 to 1845, according to a news release.
New to the festival this year will be the Corner Corral, an area filled with inflatables. Back this year are the petting zoo, pony rides and pumpkin train. The Crystal Lake Historical Society will demonstrate apple peelers, and bakers are encouraged to enter the Apple Pie Baking Contest.
Hours for the festival are 9 a.m. to 4 p.m.
The Great Ball Race Raffle will be held at 3 p.m. with a grand prize of $1,000. The Great Ball Race features brightly colored, numbered balls rolling down the hill on Brink Street with the fastest ball winning $1,000 for its owner. Other prizes also are given.
For information, maps and an event calendar, go to www.DowntownCL.org.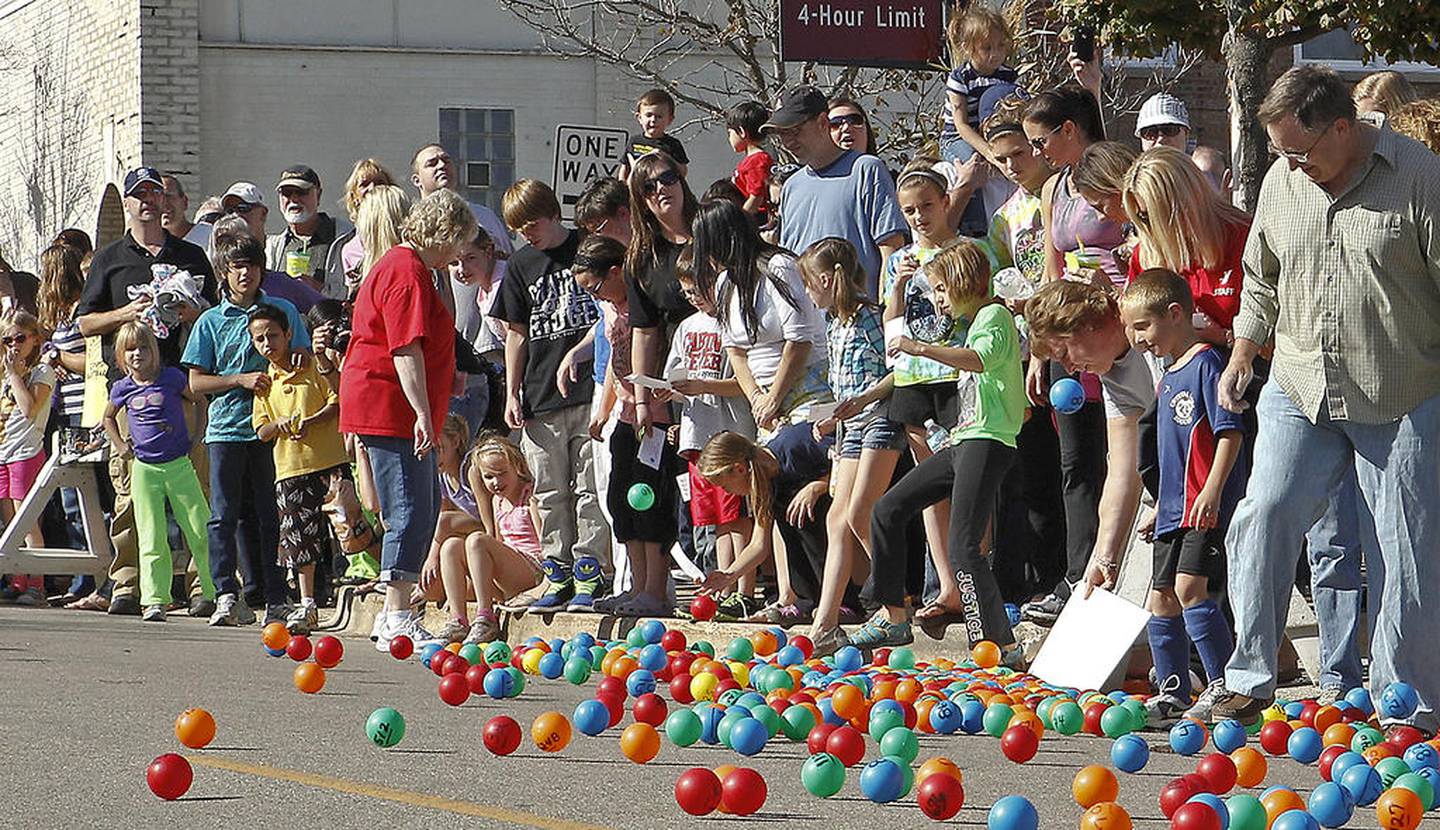 5. The sixth annual McHenry County Farm Stroll will take place from 10 a.m. to 4 p.m. Sunday, giving visitors a chance to tour 12 farms throughout McHenry, Kane and Walworth counties for free.
Visitors will be able to see a wide variety of animals, including dairy cows, grass-fed cattle, hogs, horses, alpacas, sheep, goats, free-range turkeys and chickens, according to a news release. Orchards and farms will sell products like meat, eggs, honey, fruits, vegetables, jams and donuts.
Participating farms include Alden Hills Organics Farm in Walworth, Wisconsin; Wanda Farm in Harvard; Hephzibah Farms Inc. in Hebron; Patyk's Farm Market and Greenhouse in Richmond; Soulful Prairies in Woodstock; Terra Vitae Farms in Woodstock; Lazy K Ranch in Woodstock; Cody's Farm and Orchard in Marengo; Broadview Farm and Gardens in Marengo; HillBunker Farms in Woodstock; The Fleur de Lis Farm in Union; and All Grass Farms in Dundee.
For information, go to the McHenry County Farm Bureau's website at mchenrycfb.org or University of Illinois Extension Master Gardeners at web.extension.illinois.edu/lm.